A hand mixer is a cheaper alternative to a full size stand mixer for those who don't bake often. If you bake only once or twice a week, a good quality electric hand mixer will do. It is also a great choice for smaller kitchens with little counter space. The best hand mixer for baking doesn't take up any counter space and you can store it in a drawer.
We compared dozens of hand mixers and picked five that impressed us most. We considered build quality, price, versatility (especially speed settings) and customer reviews when picking the top five hand mixers for baking.
Below is a quick buying guide to help you pick the right hand mixer followed by reviews of our top picks from those mixers available to buy online in the UK.
What to Consider When Choosing a Hand Mixer for Baking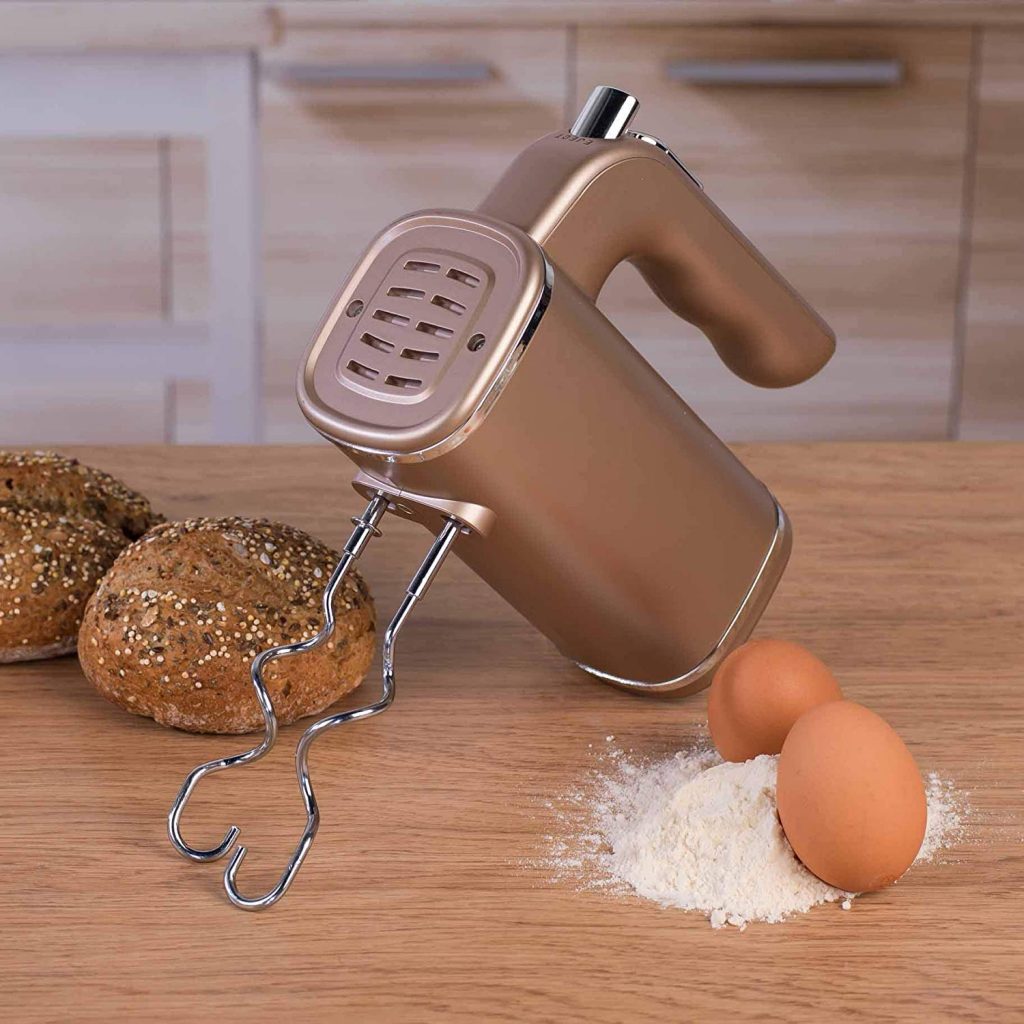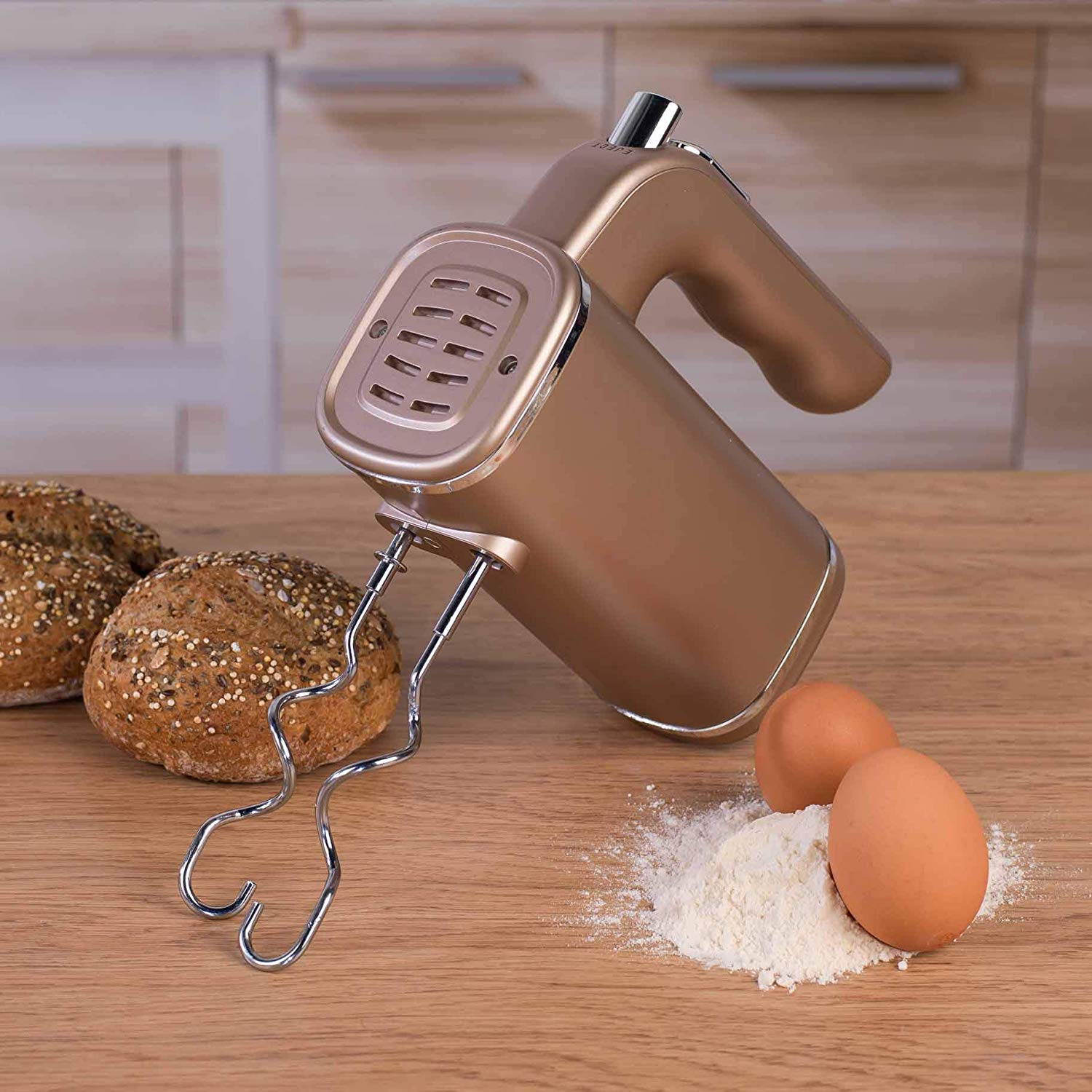 Note that when we refer to hand mixers, we are talking about the electric types. Old-fashioned crank hand mixers are still available in stores but they are typically good for whisking eggs, soups and gravy.
Manual hand mixers are tedious and tiring to use for baking. An electric mixer is easier and faster to use and produces much better results. If you want to properly cream butter or create smooth batters, an electric hand mixer is the best choice (after stand mixers, obviously).
Here's what to consider when picking the right hand mixer for your baking.
a) Power
Hand mixers range between 200W and 400W in power. Wattage indicates how powerful the motor is.
Low-wattage hand mixers (200W-250W) are ideal for thin cake and pancake batters. If you mostly bake cakes, we recommend a mixer with at least 250W of power to ensure it can handle thicker cake batters.
Bread dough requires more power to properly turn and mix. We recommend a 300W-400W hand mixer if you bake bread often.
Keep in mind that a higher wattage mixer is going to cost you more. It's also going to be slightly noisier.
On the upside, it will mix batter or dough faster and more efficiently.
b) Speed Settings
It is essential that you have control over the speed of the mixer. Different types of batters call for different mixing speed.
Some cakes will come out dense and chewy if you whisk the batter too fast, driving out air.
Many of our favourite hand mixers have at least 5 speeds, and others have as many as 7. More speeds give you more control over your batter. You can turn up the speed when you are dealing with extra-thick batter and lower it when you don't want the flour flying out of the bowl.
One thing to check is that the speed control knob or button is easy to reach. You should be able to adjust speed with your thumb while holding the mixer.
c) Turbo/Pulse Setting
The turbo button in some hand mixers works the same way as the pulse button in blenders. It turns the mixer at the highest speed when you press the button.
These quick bursts of power give you more control over batter preparation. The turbo setting is also handy when you are dealing with a thick batter or dough.
As with speed settings, the pulse/turbo button should be easily accessible such that you can activate it with your thumb while still holding the mixer.
d) Accessories
Look for a hand mixer with multiple accessories for use with different types of pasties.
Most hand mixers come with one or two beaters ideal for batter, a pair of hooks for cookie and bread dough and a balloon whisk for beating eggs and mixing thin batters.
Also, check that the mixer has a beater eject button. It makes it easy and quick to remove or interchange attachments.
e) Ease of Cleaning
Most hand mixers have dishwasher safe accessories. You just press the eject button to remove the beater or hook and then you can clean it in your dishwasher.
Baking is messy enough without having to deal with a mixer that doesn't come apart easily or that requires handwashing.
f) Extras
These features are not essential but are nice to have.
Retractable cord: A long cord can make a mess in your drawer, even when you wind it around the mixer. A retractable cord makes it easier to store the mixer in a small drawer.
Integrated plug storage: Instead of leaving the plug dangling about, some hand mixers have an integrated storage that looks like a socket. Combined with a retractable cord, a built-in storage for the plug makes storage much easier.
Heater: A heater in a hand mixer? Why? Granted, it's not a common nor essential feature but it's handy when you are dealing with cold ingredients like butter. Instead of waiting an hour or more for the ingredients to come to room temperature (for recipes that call for room temperature ingredients), you can get to work right away. The integrated heater will gently warm the ingredients as you mix.
Best Hand Mixers for Baking in the UK
1. Breville VFM021 HeatSoft Hand Mixer Review
The Breville VFM021 hand mixer is the only one of our picks to have a built-in heater. Breville calls it HeatSoft technology.
As you mix your ingredients, the mixer blows warm air, quickly softening butter to room temperature. Importantly, the heater doesn't melt the butter, which could ruin your recipe. It's just warm enough to soften it.
If you are preparing a pastry that calls for softened butter, the Breville VFM021 hand mixer saves you the trouble of waiting for it to warm up and soften.
The Breville VFM021 mixer has a 270W motor. Though it's not the most powerful of our top picks, it's good enough for most types of pastries from pancakes to bread.
The mixer has 7 speed settings, giving you plenty of options for different types of pastries. You can reach the speed knob with your thumb, which makes it easy to adjust speed while mixing.
The power boost button is also easy to reach for those times you need extra power.
To handle different types of batters and doughs, the Breville VFM021 comes with multiple beaters, dough hooks and a whisk. You also get a clear storage case that makes it easier to store the mixer and keeps accessories from being misplaced.
All the accessories, except the storage case, are stainless steel and dishwasher safe.
Use the eject button to detach a beater or hook. You can also remove the magnetic splatter guard and clean it in a dishwasher.
Overall, the Breville VFM021 is a great choice for most home bakers. It has adequate power, most of the accessories you need and ingenious butter softener.
What we like about it:
Easy to use.
Integrated heater to soften butter.
Comes with multiple accessories.
Good build quality – expect it to last for years.
CLICK TO CHECK PRICE ON AMAZON
---
2. Bosch MFQ2420BGB Hand Mixer Review
The Bosch MFQ2420BGB hand mixer is our top recommendation for those who bake bread often.
Mixing bread dough requires more power. The 400W Bosch MFQ2420BGB handles thick dough without an issue and reduces the mixing time.
You get two stainless steel hooks specifically for mixing dough and two turbo whisks for batter. All these attachments are dishwasher-safe.
As for speed, you can choose from four levels. That's not as many as the Breville mixer above but it should be enough for most of your baking.
The highest level is fast enough for mixing thick batter or dough and the lowest setting is slow enough to prevent a mess on your counter.
If you need a temporary power boost, the Bosch MFQ2420BGB mixer has a turbo button.
One thing many customers love about the Bosch mixer is how quiet it is, despite the added power. You don't have to worry about waking the baby when mixing ingredients. You can also comfortably carry on a conversation with someone while working.
This being a Bosch product, build quality is excellent. The design is a bit old-fashioned though.
What we like about it:
Powerful motor.
Multiple accessories.
Easy to use and clean.
Good build quality.
CLICK TO CHECK PRICE ON AMAZON
---
3. Dualit 89300 Hand Mixer Review
The Dualit 89300 is the most expensive hand mixer we picked. The higher price tag comes from the high build quality, the sleek modern design and the powerful motor. It also boats a couple of unique features that you'll love.
Let's start with the aesthetics. If you don't like the classic look of the Bosch mixer, the Dualit hand mixer looks more modern.
It'll fit in perfectly among your modern appliances. You can even choose a colour to match your kitchen style. Options include chrome, canvas white (if you prefer a retro style) and metallic red.
The Dualit 89300 is not just about looks. It is incredibly well made with a stainless steel body and accessories.
For this reason, it feels a bit heavier than other hand mixer. But it's still light enough that it won't tire your hand.
Expect the Dualit 89300 mixer to last for a few years. When it starts to wear down, the mixer is designed with replicable parts, saving you the costs of a brand new mixer. Just replace the problematic part and keep going.
The Dualit 89300 has a 400W motor, powerful enough for everything from eggs to bread dough.
It comes with two flat beaters, two dough hooks and a balloon whisk, so you can choose the perfect tool for the job.
Removing the accessories is easy using the ejector button conveniently located along the handle.
The speed settings are also easy to access using your thumb. You can choose from four speed levels.
Interestingly, the Dualit hand mixer lacks a dedicated pulse/turbo button. However, according to the manual, you can use speed 4 for short bursts of power (no more than 5 seconds).
The unique features I mentioned include a retractable cord and built-in plug storage. With no cord dangling or winding around the mixer, it's easy to store it neatly in a drawer or on the counter.
What we like about it:
Powerful.
Excellent build quality – guaranteed durability.
Retractable cord and plug storage.
Multiple accessories.
CLICK TO CHECK PRICE ON AMAZON
---
4. Salter EK3103 Hand Mixer Review
If you are on a budget, we recommend the Salter EK3103 hand mixer. It is the cheapest mixer among our top picks.
It also has the least power at 250W. It's best for whisking batter and eggs. You can still use it for dough – it even comes with two dough hooks – but it'll be a slow going and will only work well for little amounts of dough.
In addition to the hooks, you get a pair of beaters. But it doesn't come with a whisk.
There are five speed settings. The speed selection button is located on the handle, making it easy to access with your thumb.
There's also a turbo button for temporary power bursts.
As for aesthetics, the Salter EK3103 mixer has a nice retro look finished in champagne. If you prefer modern aesthetics there's another option with a titanium finish.
What we like about it:
Affordable.
Multiple accessories.
Beautiful retro design.
CLICK TO CHECK PRICE ON AMAZON
---
5. Bosch MFQ36300GB Hand Mixer Review
If you like the Bosch MFQ2420BGB (our second pick above) but would prefer a mixer with more speed options, we recommend the Bosch MFQ36300GB hand mixer.
It has the same powerful 400W motor as the other Bosch mixer but features five speeds instead of four. You also get a turbo/pulse option.
The Bosch MFQ36300GB hand mixer has the legendary build quality Bosch is known for. The body feels solid and sturdy and all the accessories are stainless steel.
Talking of accessories, the Bosch MFQ36300GB comes with a pair of steel whisks for batter and eggs and another pair of steel hooks for mixing dough.
The attachments are dishwasher safe.
What we like about it:
Excellent build quality.
Powerful motor – handles batter and dough with ease.
Five speed settings plus pulse.
Multiple accessories.
CLICK TO CHECK PRICE ON AMAZON
---
Frequently Asked Questions
1. Can I use a hand mixer to make bread dough?
Yes, you can use an electric hand mixer to prepare dough. We recommend getting a hand mixer with a minimum wattage of 300W to ensure it has enough power to handle dough. Also check that the mixer comes with a dough hook attachment.
2. Are hand mixers noisy?
Hand mixers make some noise, but not enough to wake up other family members. You can still hold a conversation comfortably while mixing batter or dough in a bowl.
Hand mixers are much quieter compared to the higher-wattage stand mixers.
3. Where can I buy a hand mixer?
Amazon UK sells a wide range of hand mixers from numerous brands. It's the best place to buy if you want plenty of options to choose from and a good bargain.
You can also check a local supermarket, kitchenware store or baking ware store for a hand mixer.