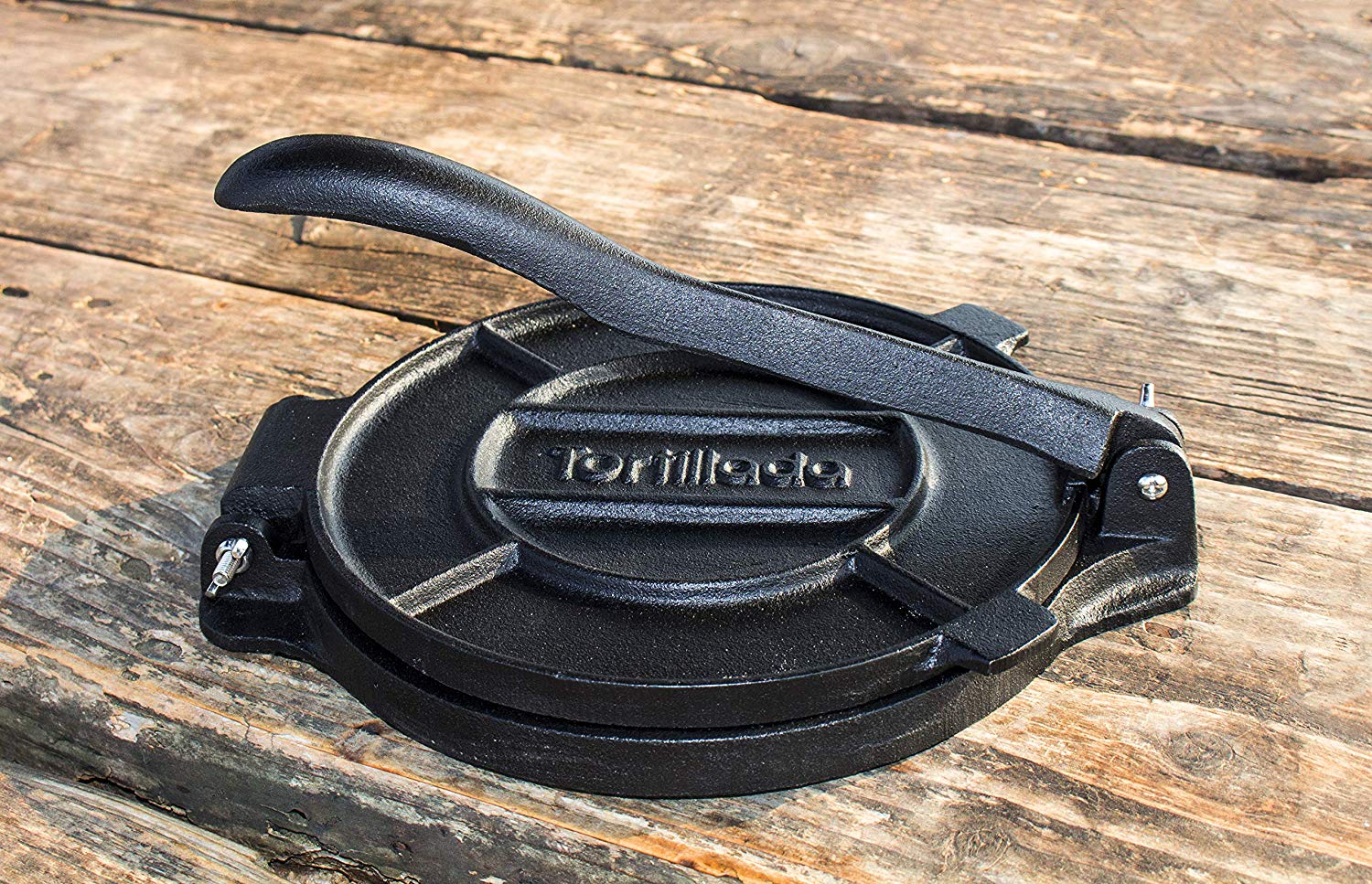 If you prefer homemade tortillas, a tortilla press is a simple but useful addition to your kitchen.
You can use a rolling pin, but it takes time and effort to get that perfectly round shape.
A press will make your work much easier and save you time you'd have spent rolling out the dough.
Instead of spending 2-3 minutes rolling out a single tortilla, a tortilla press flattens the ball in a couple of seconds. This is especially handy when you are making large batch of tortillas for a family reunion or a home party.
The only limitation of tortilla presses is that they don't work so well for wheat flour dough. If you are making the traditional corn tortillas, a tortilla press works great. If you are using wheat flour, a tortilla press is tricky to use because of the dough's elasticity.
You can still use a press to make wheat flour tortillas. We recommend starting out with the press and then perfecting the tortilla with a rolling pin to get uniform thickness.
In this buying guide, we review the best tortilla presses and give you some tips on how to pick the right press for perfect tortillas.
How to Use A Tortilla Press
With the tortilla press open, place a piece of parchment or waxed paper on the plate.
Place the ball of dough at the centre of the plate on the parchment paper. Try to centre it as perfectly as you can to ensure a round tortilla.
Place another piece of parchment on top of the ball. The parchment papers keep the dough from sticking on the press plates, making it easy to transfer the flattened dough onto the pan. In place of two parchment papers, you can also use a large parchment or waxed paper folded in two with the dough the centre.
Lower the top plate on top of the dough.
Press down the handle firmly to press the top plate on the dough.
Lift the handle and the top plate to remove the tortilla.
Tip: A tortilla press is not just great for preparing tortillas. You can also use it for dumplings, chapatis, empanadas, tostones, mini pies and chicken thigh cutlets.
What to Consider When Choosing a Tortilla Press
a) Material
The best and most durable tortilla presses are made from cast iron. You'll also find aluminium, plastic and even wooden presses. Here's a look at the pros and cons of each type of tortilla press.
Cast iron tortillas are the best. They are heavy duty and very durable. They are also heavy, with some weighing as much as 5kg.
The added weight is a good thing. It puts more pressure on the tortilla, reducing the effort you have to apply on the handle. Simply put, a cast iron press is easier to use.
On the downside, a cast iron press is more prone to rusting if you don't take proper care of it. A cast iron tortilla press is also expensive, but you are rewarded with longevity. A single cast iron press can easily outlast several aluminium presses.
If you are on a budget, an aluminium tortilla press is the best option. It's also a great choice if you prefer a lighter press that is easy to move about.
The main disadvantage of an aluminium tortilla press is reduced durability. The handle is especially prone to snapping. Be careful not to press too hard on the handle.
An aluminium press is also easy to take care of. It doesn't require any seasoning and aluminium is rustproof.
Plastic presses are the cheapest. They are also the least durable. The plastic plates can bend after some time and the handle breaks easily.
We don't recommend a plastic tortilla press. If a cast iron press is beyond your budget, go for aluminium.
Wood is an unusual choice for a tortilla press. But it actually works great, especially if you choose a heavy hardwood tortilla press that doesn't warp or break easily.
The biggest disadvantage is the price tag. A good quality hardwood press can cost more than a cast iron press.
b) Rust-proof Finishing (For Cast Iron)
If you plan to get a cast iron tortilla press, make sure it has a rust-resistant finishing.
Some cast iron presses use a paint finish (not recommended because of tendency to flake) and others have a smooth powder finish (non-flaking and better for rust protection).
But most of the cast iron presses you'll find use seasoning to keep out corrosion. You'll still need to be careful to avoid damaging the seasoning and exposing the cast iron to rusting.
c) Size
Finally, consider how big you want the tortilla press to be. Presses range between 15cm to 25cm in diameter.
A wider press is more versatile. You can prepare larger tortillas and use it with many other foods like chapatis and pies.
Keep in mind that a larger press will be heavier and cost more.
d) Accessories and Extras
Some presses come with a pack of parchment paper so you can get started making tortillas right away.
Others also include a recipe book, either a physical copy or an e-book sent by email.
Best Tortilla Presses in the UK
1. Uno Casa Cast Iron Tortilla Press Review
The Uno Casa cast iron tortilla press is the best choice for most people. Yes, it is more expensive than an aluminium or plastic press, but it'll last much longer.
The handle – the most vulnerable part of a press – is thick and sturdy. It is connected to the press using a screw. If it breaks, it's the screw that will break, and that's easily replaceable. The Uno Casa tortilla press comes with an extra screw for just such a situation.
Measuring 20cm in diameter, the Uno Casa press is ideal for most tortilla sizes. You can also use it for dumplings, mini pies and other foods.
The press comes pre-seasoned, which protects it from rust. The seasoning also makes the plate surface non-stick, though you should still use the parchment papers.
In addition to the tortilla press, you'll also receive a pack of 100 pieces of parchment paper and a recipe e-book.
What we like about it:
Excellent build quality – designed to last a lifetime.
Pre-seasoned cast iron – non-stick and rust-resistant.
Comes with parchment paper, a spare screw and a recipe e-book.
CLICK TO CHECK PRICE ON AMAZON
---
2. Tortillada Premium Cast Iron Tortilla Press Review
If you are looking for an extra-wide press, we recommend the Tortillada cast iron tortilla press.
It has a 25cm diameter, making it ideal for large tortillas and other foods.
The larger size makes it heavier than other cast iron presses. It weighs 5kg. We recommend setting up a station for it on your counter so you don't have to move it about.
On the upside, the added weight makes it easier to press tortillas into shape.
The press is pre-seasoned, so you don't need to worry about rusting.
Like other cast iron tortilla presses, Tortillada is designed to last a lifetime. If it ever breaks, it's the screw connecting the handle to the plates that will break. Fortunately, that's easy to replace.
Unlike aluminium presses, you can press down on the cast iron handle as hard as you want without worrying that it will snap.
The Tortillada tortilla press doesn't come with parchment paper, but you get an e-book with 50 tortilla recipes.
What we like about it:
Sturdy and durable.
Extra-wide.
Pre-seasoned.
Free e-book.
CLICK TO CHECK PRICE ON AMAZON
---
3. Norpro Cast Aluminum Tortilla Press Review
If you are going to get an aluminium press, Norpro is one of the best brands. Their aluminium tortilla press is well made and less likely to break.
The biggest advantage of an aluminium press is the lightweight construction. The Norpro cast aluminium press weighs just 680g for the 15cm size and 980g for the 20cm size.
If you need a tortilla press you can carry around, Norpro is a great choice. It's also ideal if you'd like to make some tortillas when camping.
We recommend the 8" (20cm) Norpro press. Most customers say the 6" one is too small for standard tortillas.
Being an aluminium press, temper your expectations when it comes to durability. While it's better quality than most cheap aluminium presses you'll find in stores, it cannot match the durability of a cast iron press.
Several customers have complained about scratches or the hinge breaking. Just be ready to replace the press every 2-3 years especially if you use it often.
But if you make tortillas infrequently, it can last for quite a while.
What we like about it:
Lightweight – ideal for those looking for a portable tortilla press.
Cheaper than cast iron presses.
Two size options.
CLICK TO CHECK PRICE ON AMAZON
---
4. KitchenCraft World of Flavours Mexican Style Tortilla Press Review
The KitchenCraft tortilla press is another good choice if you prefer the cheaper and lighter aluminium presses.
We recommend the KitchenCraft press for those who make tortillas only once or twice a month. It doesn't stand up well to frequent use.
There are also several complaints that the top plate is too light and doesn't press down firmly on the tortilla, resulting in thick tortillas.
If you don't mind these limitations, the price is great. It's half the price of cast iron tortilla presses, and if you take good care of it and not use it too often, it can last for a few years.
Just be careful when using it. Don't press too hard on the handle. You may also need to use a rolling pin to perfect the tortilla.
What we like about it:
Wide (20cm).
Lightweight construction (299g).
Comes in a gift box – perfect for gifting someone who loves Mexican food.
CLICK TO CHECK PRICE ON AMAZON
---
5. Impeccable Culinary Objects (ICO) Cast Iron Tortilla Press Review
The ICO tortilla press is slightly cheaper than other cast iron tortilla presses. It measures 20cm wide and weighs 3.2kg.
The ICO press has the ruggedness and durability associated with cast iron presses. It'll last a generation without denting, scratching or breaking.
It is pre-seasoned, meaning it's well protected from rusting. However, you may need to season it again after a few years to maintain rust protection.
The ICO tortilla press comes with a pack of 8" parchment disks for use with the press.
What we like about it:
An affordable cast iron tortilla press.
Easy to use – heavy plates flatten tortillas with ease.
Pre-seasoned.