Haggis is a truly delightful meal – and a cultural tradition. As we get closer to Burns Night, you might want to learn how to cook it to perfection!
If you've already cooked it every way you can imagine, or if you don't have a lot of time to spend slaving over a hot stove, why not look into how to cook haggis in a slow cooker?
This dish actually lends itself very well to slow cooking. Haggis isn't a particularly tough meat, being a minced up selection of meat and oats, so it doesn't need to be cooked for a long time.
However, cooking haggis in the slow cooker adds a whole new dimension to this delicious, seasonal dish.
How To Cook Haggis In A Slow Cooker?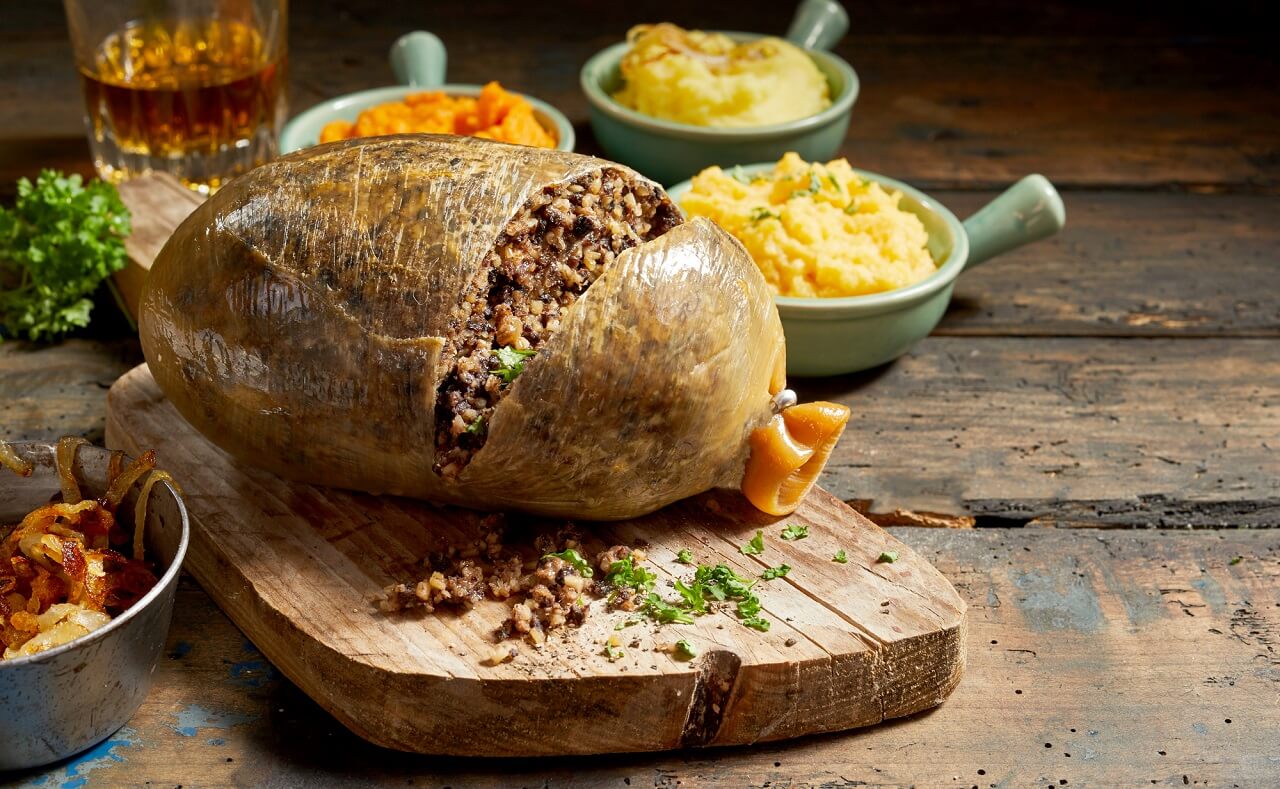 There are a few ways you can choose to cook your haggis in the slow cooker. Most are very simple, all are ridiculously delicious!
You can choose to simply cook your haggis on its own, or jazz it up with other ingredients.
Whichever method you choose, we are certain that you will love the dish itself, as well as the easy, simple way of cooking it in a slow cooker.
Simple Slow Cooked Haggis
This has to be the easiest, most hassle free way of cooking your haggis in the slow cooker:
Ingredients:
Method:
If your haggis is frozen, allow it to defrost completely before you cook it.
Remove any plastic packaging from the haggis, and wrap it in tin foil.
Place it in the slow cooker on Low for 6 hours.
Remove from the cooker, unwrap the tin foil and serve with mashed potatoes and swede.
Slow Cooked Haggis And Squash
The slightly sweet taste of the squash perfectly offsets the salty, slightly spicy kick of the haggis.
Ingredients:
1 medium haggis
1 medium butternut squash, peeled and chopped (you can also substitute turnip for a more authentic haggis dish!)
1 medium onion, chopped finely
1 pint water
Method:
Remove the outer packaging of the haggis, and slice into thick chunks.
Place the haggis, chopped onion and chopped squash into the slow cooker.
Add the water and cook on High for three hours.
Serve with baked potatoes and coleslaw.
Haggis "Lasagne"
This is a really interesting and different way to cook your haggis in the slow cooker – and of course it tastes amazing!
Ingredients:
900g haggis, sliced
500g swede, peeled
400g potatoes, peeled
200g cream cheese
25g butter
50g grated cheese
100ml hot water
Salt and pepper
Method:
Remove the outer casing from the haggis and slice it into 1cm slices.
Slice the swede and potatoes very finely, using a mandoline or a food processor.
Blanch the two vegetables separately in boiling water for 2-3 minutes, then drain and plunge into icy water. Drain thoroughly.
Place a layer of haggis slices in the slow cooker, then add a layer of swede, then a layer of potato.
Spread half the cream cheese over the potato layer.
Repeat the layering one more time.
Pour over the hot water, then dot butter on the final potato layer.
Cook on Low for 5-6 hours.
When cooked, remove the lid and sprinkle over the grated cheese. Replace the lid until the cheese melts.
Serve with salad or lightly steamed vegetables.
Haggis Stuffed Chicken
If you like your haggis with a good amount of other flavours, this recipe is for you! Slightly more complicated than the others, but the results are impressive.
Ingredients:
1 haggis
8 chicken breasts
8 strips of bacon
100ml water
Method:
Butterfly cut the chicken breasts.
Divide the haggis into 8 portions, and stuff each of them into each chicken breast.
Wrap each chicken breast in a slice of bacon.
Place the chicken breasts in a single layer in the slow cooker (you may have to do this in two batches).
Cook on Medium for 4-5 hours.
Serve with creamy mashed potatoes and braised red cabbage.
Can You Heat Haggis In A Slow Cooker?
Because haggis is already cooked when it arrives in your house, technically you aren't cooking it at all, simply reheating – no matter how you decide to cook it.
So the answer is yes, you can reheat haggis in the slow cooker – but there are some things to be aware of:
If it is cooked for a long time without some sort of fluid, the haggis can become dry.
Cook it either with some vegetables and a little water, or cover it with a sauce so that it doesn't dry out.
Watch the extra seasonings – haggis is quite a highly seasoned product, and too much extra salt and pepper can be a little much.
Stir the haggis occasionally. This will ensure that it is cooked through and that the edges don't get too crisp.
Don't cook the haggis for too long. It should only need an hour at the most to heat up, if it is being heated on its own.
Haggis is a lovely, traditional meal that you can enjoy for Burn's Night – or literally any other night of the year!
Hopefully you now have some great ideas about how to cook your haggis in the slow cooker, so you can enjoy it cooked with very little hassle, and the maximum amount of flavour.