Mushrooms are a great breakfast food. Easy to cook, delicious, and packed with health giving nutrients and vitamins, plus they go really well with all the other types of "traditional" breakfast foods. But how to cook large flat mushrooms for breakfast? If you have spent your life eating button mushrooms and have not yet ventured into the glorious world of field mushrooms, then this is the post for you!
How To Cook Large Flat Mushrooms For Breakfast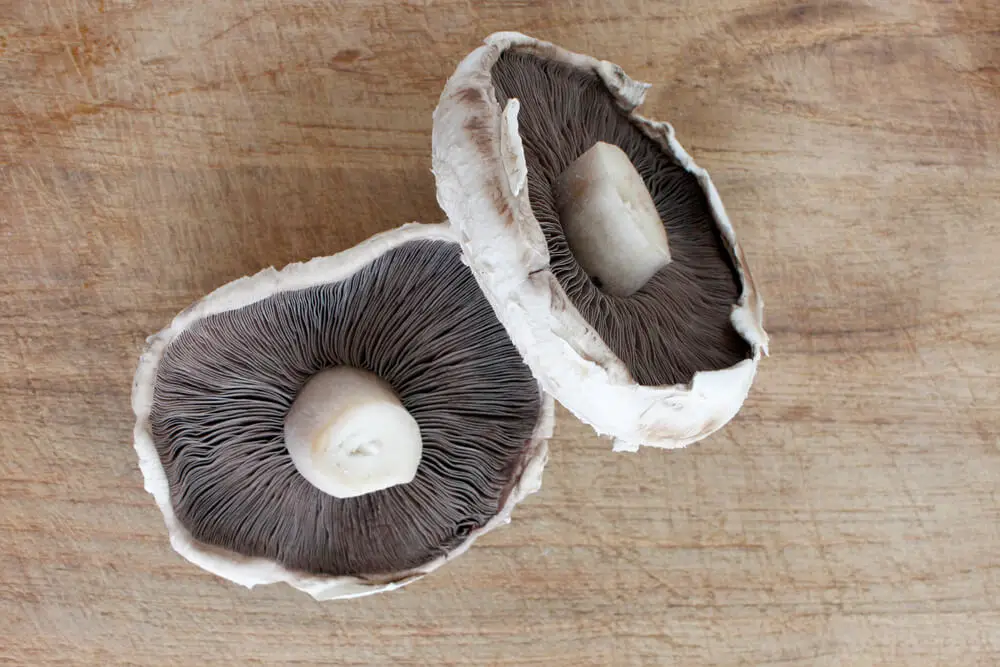 Large flat mushrooms, known as horse mushrooms or field mushrooms, are a great addition to the breakfast table. They have a silky, soft texture when cooked well, and a really good earthy mushroom texture. They are slightly stronger in taste than their smaller cousins, so if you love mushrooms then a large flat one is definitely for you!
You can cook these mushrooms as part of a full English breakfast, or you can use the as a show piece on its own. There is even a variety on the ways that you can cook them – grilled, fried, or baked. Whichever way you do it, they will end up the same delicious pile of nutrient rich gorgeousness, so try it all the different ways and figure out which type is your favourite!
1. Roasted Mushroom With Eggs
This is a speedy, simple breakfast recipe, that is packed with vitamins and protein and contains very few calories. It's so simple and delicious!
What you'll need:
4 Portobello mushrooms
1 pack spinach
4 eggs
Baking tray
Oil (optional)
What you'll do:
Preheat the oven to 200C/Gas Mark 6.
Peel the outer skin off the mushrooms, and remove the stalks. Place them, stem side up, in a baking tray (if this is non stick then you will want to brush it with oil).
Divide the spinach between the mushrooms, then crack an egg into the centre of each one.
Place into the preheated oven and cook for up to 18 minutes, until the egg is cooked to your liking.
Serve it on its own as a light breakfast or lunch, or with other "breakfast" items to make more substantial meal.
2. Full English
There are very few things in this world more satisfying than a full English breakfast!
What you'll need:
2 sausages (you can use vegetarian or meat)
2-3 rashers of bacon (streaky, smoked – whichever type is your favourite)
2 large tomatoes
2 flat mushrooms
1-2 eggs
Baked beans
1-2 slices of bread or toast
Olive oil
Butter
Salt and pepper
Sharp knife
Chopping board
Grill pan
Small saucepan
Spatula/fish slice
What you'll do:
Heat up the grill plate, using two hobs if it is too big for one. Brush it lightly with olive oil.
Add the sausages to the coolest part of the grill pan and cook them slowly, turning occasionally, for between 15 and 20 minutes.
Trim the stalks of the mushrooms so that they are level with the caps, then drizzle them with a little olive oil, and salt and pepper. Place them on the grill pan stalk side up, and cook for 1-2 minutes on one side, then turn over and cook for 3-4 minutes.
Cut the tomatoes in half across the middle, season with salt and pepper and drizzle with olive oil. Place them cut side down on the grill, cook for 2 minutes, then turn and cook for a further 2-3 minutes.
Place the small pan on the hob on a high heat, add the beans to the pan and cook till they are warmed through, stirring occasionally.
Add a good knob of butter to the grill pan, then break the eggs in. Splash a little of the hot butter over the top of the eggs using your spatula, to ensure that the top side is cooked too – or you can flip them over if you prefer.
You can fry or toast your bread, or just spread it with butter and eat it as it is (my personal favourite!)
Serve all the items together, with your favourite sauce! If one item is cooked before the others, simply place it on a plate inside a warm oven to keep it warm enough to eat.
3. Stuffed Mushrooms
This is a delicious, simple little snack, that can be used as part of a breakfast, or up the quantities and serve it as part of a healthy dinner.
What you'll need:
4 large Portobello mushrooms
Olive oil
4 large eggs
7oz sausage meat
30g chopped basil
2tbsp chopped chives
60g cheddar cheese
Salt and pepper
Baking tray
Parchment paper
Small saucepan
Bowl
Whisk
Spoon
What you'll do:
Preheat the oven to 200C/Gas Mark 6. Line the baking tray with parchment paper.
Remove the stems entirely from the mushrooms. Rub the insides of the caps with olive oil and roast them in the oven for about 5 minutes.
Add the sausage meat to the small saucepan and cook, stirring, until browned.
Place the eggs in a bowl and whisk until they are scrambled, then add to the pan with the meat. Stir in the herbs.
Once the eggs are fully cooked, remove from the heat and divide the mixture evenly between the mushrooms. Top each one with grated cheese, then place the tray back in the oven until the cheese is melted – about 5 minutes.
You can serve this with other English breakfast items, or use it as a side dish for a different main meal.
Final Words
Large flat mushrooms are a truly delicious example of the mushroom family. They require very little cooking to make them absolutely delicious, and there is almost no end to the things you can do with them.