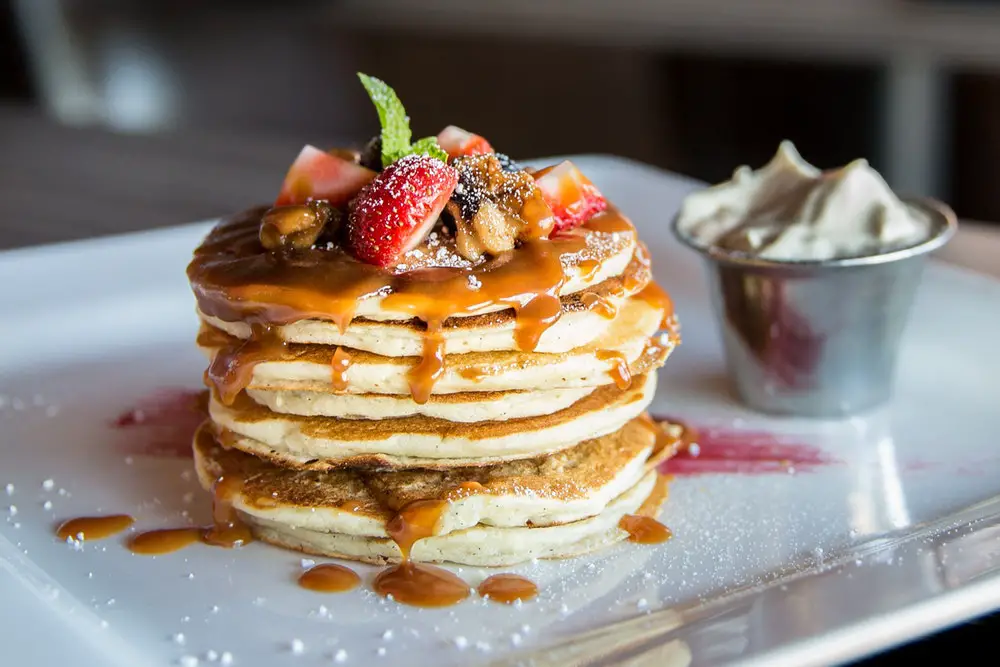 The best pancake griddle has low sides for easy manoeuvrability, even heat distribution and a non-stick surface. It should also be wide enough to fit large pancakes or several smaller ones.
In this buying guide, we review the best pancake griddles for gas stoves. Of course, they are not exclusively pancake pans. They are also suitable for drop scones, roasted vegetables and sautéed meats – any recipe that calls for a low pan.
Our top picks are based on factors like pan material, size, quality and ease of use.
But first, some tips on choosing the best pancake griddle.
What to Consider when Buying a Pancake Griddle for a Gas Stove
a. Cast Iron vs. Aluminium
Most chefs and home cooks swear by cast iron, citing its unmatched cooking performance and incredible durability.
It's true that cast iron is great for cooking. A cast iron griddle will take time to heat up but once it does, it maintains its heat.
You won't have a scenario where the pan gets cooler after the first couple of pancakes, which can affect how well your pancakes turn out.  
Cast iron griddles also last very long. With proper care, a good quality cast iron pan can easily last 100 years.
Another advantage of a cast iron pan is its versatility. Because it can withstand high temperatures, you can use it on a gas stove, camp fire, electric hob, grill and even in an oven.
As you may already know, cast iron is also compatible with induction hobs.
If you don't like the hefty feel of cast iron, aluminium is a good alternative. It is strong and durable but much lighter than cast iron.
Another advantage of an aluminium griddle is that it heats up fast and evenly. But on the downside, it cools fast. So you might have to wait a few seconds between pancake batter droppings for it to heat up again.
You can also get a stainless steel griddle, though it's more expensive than both cast iron and aluminium.
Stainless steel pans have great heat conduction, they heat up quickly and last a lifetime.
b. Size
A wider pancake griddle allows you to cook larger pancakes or several smaller pancakes at the same time.
Pancake pans typically top out at around 30cm or 12 inches. Some larger ones can be as wide as 32-34cm.
But be careful when choosing an ultra-wide pancake griddle. Make sure it can fit on your gas stove. If it's wider than the hob, it will heat unevenly and produce less-than-tasty results.
The ideal size for most gas stoves is between 9 and 12 inches.
c. Non-stick
Cooking pancakes on a sticky pan will be messy and frustrating. A non-stick pan makes your cooking so much easier and tastier.
If you are buying an aluminium pan, make sure it has a non-stick coating.
If you are buying a cast iron pan, either get one that's already seasoned or prepare to season it yourself. A cast iron develops a natural non-stick coating once you season it.
After that, the more you use it, the better its non-stickiness gets.
d. Versatility
Even if you are buying a griddle specifically with pancakes in mind, you'll probably use it for more than that.
If you love baking or roasting foods like meats and vegies, look for a pan that can handle different types of cooking including sautéing and frying.
It should also be oven-safe.
The Best Pancake Griddle Reviews
1. Lodge Pre-Seasoned Cast Iron Round Griddle Review
This is the best choice if you are looking for a cast iron pancake griddle. It has a diameter of 10.5 inches (26.6cm), wide enough for large pancakes as well as meats, vegetables and whatever else you want to roast or fry.
The pan comes pre-seasoned so it is non-stick right out of the box. The seasoning process also makes it more resistant to rusting.
The Lodge cast iron is safe for use in just about every cooking situation. You can use it on a gas stove, bake with it in the oven, place it on a campfire or use it on an outdoor grill.
In addition to making pancakes, you can cook meats, vegetables, drop scones, flapjacks and many other recipes.
Note that the pan's handle is metal as well. The handle and the pan are forged from one piece. So the handle gets very hot when cooking. Wear mitts or buy the pan + handle combo.
The pan comes with a lifetime warranty, which gives you an idea of just how long it's meant to last. With good care, it can last more than a century.
Maintenance is easy especially since the pan is already seasoned. You won't need to season it unless you notice some rusting or it begins to lose its stick resistance.
As for cleaning, the manufacturer says soap is optional. A quick rinse with warm water is enough.
Once the pan is on the stove and reaches 100°C, it's sterile.
If you have to wash with soap, use mild soapy water. Avoid strong detergents as they could affect the seasoning.
What we like about it:
Well-made and long lasting.
Pre-seasoned.
Versatile.
Has a hole in handle for easy hanging.
CLICK TO CHECK PRICE ON AMAZON
---
2. Charcoal Companion Cast Iron Comal Pan, 9.75" Review
This is another good choice if you are looking for a good quality cast iron pancake griddle. Like the Lodge pan, it comes pre-seasoned, which makes it naturally non-stick and rust resistant.
It's just as versatile as the Lodge pan. You can make pancakes in it as well as vegetables, meats and whatever else you need to roast or fry.
It is safe for use on a gas stove. If you need to transfer any food from the stove to the oven, go ahead and do it. It is oven-safe.
You can also use it on the grill.
Be careful when holding the handle. It can get pretty hot since it is made from the same metal piece as the pan.
The heavy duty construction of the Comal pan lasts for decades. With some occasional seasoning, the pan retains its look and performance for very long.
What we like about it:
Very durable.
Pre-seasoned.
Versatile.
Hole in handle for easy hanging.
CLICK TO CHECK PRICE ON AMAZON
---
3. KitchenCraft Round NonStick Baking Stone, 10.5" Review
This griddle resembles a traditional baking stone. It's completely flat with no lip at all around the edges. It's perfect for pancakes, drop scones and welsh cakes.
Unlike traditional baking stones that are usually made from ceramic, this one is cast iron.
The pan's flat profile makes for excellent heat distribution. There are no hot spots to burn your pancakes. You get nice even browning.
It's also great for foods that require a crust. The cast iron absorbs moisture from the outside, making it crusty while leaving the inside soft.
The pan comes with several recipes to get you started.
It's not just for use on the stove. You can also use it like a traditional baking stone for cooking bread or pizza in the oven.
The pan is thick and fairly heavy. But it has a handle to make it easier to lift and carry (you can also use the handle to hang it). Just be careful not to drop it on your foot.
Note that the pan doesn't come pre-seasoned. If you want to avoid your pancakes or scones from sticking to it, season it before you cook with it.
It is an easy process and there are instructions included in the manual.
If you've seasoned yours properly, it should come out smooth and black as night.
What we like about it:
Can be used in the oven as well as on the stove.
Flat and wide – makes it ideal for numerous recipes.
Includes recipes and seasoning instructions.
Well-made and durable.
CLICK TO CHECK PRICE ON AMAZON
---
4. Vintage Gourmet Pre-Seasoned Cast Iron Round Griddle, 10.5" Review
The Vintage Gourmet cast iron pan is another excellent choice for home cooks looking for a heavy duty pancake griddle.
Good news: it comes pre-seasoned, saving you the trouble of rubbing oil and salt into it. You can get right to making your pancakes, tortillas, flat bread or Welsh cakes.
The pan is oven-safe so you can pop it in the oven to bake pizza or bread. You can also use it on a grill to cook meat or vegetables.
It's also compatible with induction cookers.
Maintenance is easy. Since it is non-stick, it doesn't require any scrubbing to get bits of food out of it. Just some warm soapy water is enough.
Do not use any harsh detergents as that could reduce the effectiveness of the seasoning.
After a few years, you may need to season the pan again to make sure it retains its non-stick and rust-resistant properties.
What we like about it:
Long lasting.
Pre-seasoned.
Can be used in the oven and on induction cookers.
Hanging hole on handle.
CLICK TO CHECK PRICE ON AMAZON
---
5. Bergner Orion Pancake Pan, 9.5" Review
If you don't like the heft of cast iron or you prefer a quick-heating pan, we recommend the Bergner Orion Pancake Pan.
It is forged from aluminium, which makes it lightweight but strong and durable.
It is a bit smaller than the other pans we have reviewed but still wide enough for most people's needs.
Being aluminium, it heats up much faster than cast iron. It also has excellent heat distribution, which ensures your pancakes cook evenly.
The pan has a Marble+ non-stick coating that holds up well for years without scratching.
You can use the pan on a gas stove as well as an induction cooker. Normally, aluminium cookware doesn't work on induction hobs. But the Orion pan has an induction-ready bottom.
The manufacturer doesn't say anything about using it in the oven, so stick to induction and gas stoves.
Unlike the cast iron pans, the Orion pan comes with a soft textured handle that provides good heat insulation. You can hold the handle safely with your bare hand.
What we like about it:
Lightweight and strong.
Fast and even heating.
Cool handle.
Induction-ready.