Salmon is often known as the king of fish, so however you cook it it is going to be amazing. But, how about trying a different type of cooking method? How to cook salmon on a Himalayan salt block is an art, and one that will help you enormously when you are looking to create your next salmon extravaganza.
How Do You Use A Himalayan Salt Block For Cooking?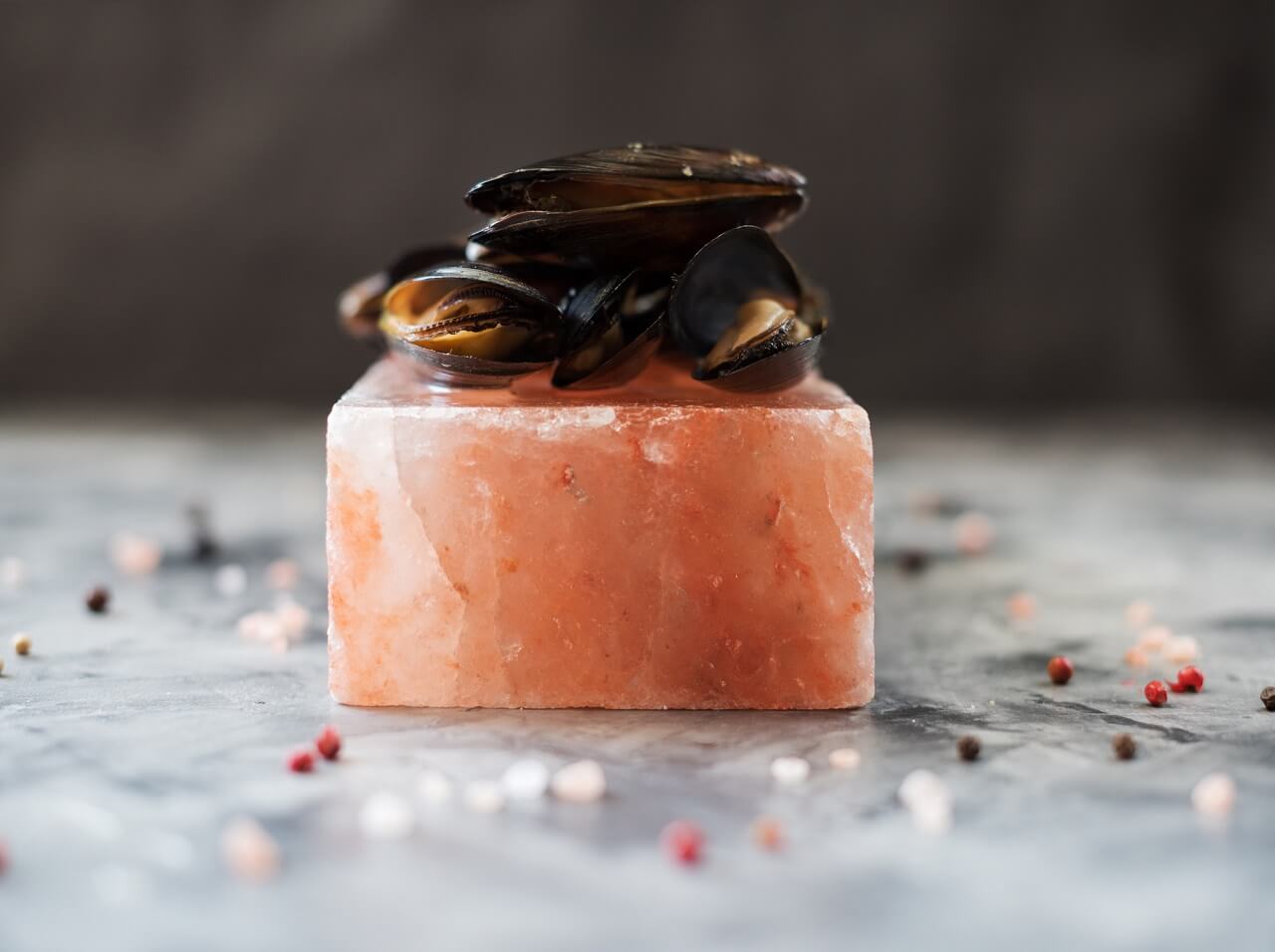 Make sure your salt block is completely dry before you use it to cook with; leftover moisture can make it crack as it is in the oven.
It will need to be fully dried for at least 24 hours before use.
Preheat it before use to prevent cracking.
Don't use cooking fat, beyond potentially a smear of butter or oil. Anything you are cooking should be placed directly onto the block, without lots of oils or butter, as this can affect the lifespan of your block and might make it degrade.
Cook any foods on your block after they have been cut into small pieces. Larger pieces will take longer to cook and may become too salty.
To use your block in the oven (or a mini oven), preheat it slowly to prevent cracking, then simply place whatever you want to bake on top of it.
Leave it to cool before you handle it after cooking with it, as these block retain temperature very well.
If you are using your salt block to serve chilled foods, place it in the refrigerator for at least 2 hours before you start to use it. You can also chill it in the freezer if yours is big enough.
To clean it, simply wipe it over with a slightly damp cloth. Don't wash it up with the rest of the dishes, this will damage it.
This is a great article explaining everything you need to know about Himalayan salt blocks.
How Himalayan Salt Blocks Melt?
Over time, your Himalayan salt block may start to degrade, as it is a mineral that can be dissolved.
If you wash your salt block then you will find that it melts away much quicker than if you just give it a wipe down.
Obviously you will want to clean it, especially if you are cooking  meat or fish on it, but try to avoid using water or cleaning fluids.
You will find that your Himalayan salt block does not last as long as more traditional baking trays, and you may have to invest in another.
However, the health benefits from cooking with a Himalayan salt block outweigh the hassle of having to buy yet another one!
Just keep it as clean as you can, without allowing it to get too wet. Another tip is to ensure that it is completely dry before you cook with it, otherwise it may start to crack.
Smoking Salmon On A Salt Block Recipe
There are a couple of different ways to serve or cook salmon on a Himalayan salt block – one involves cooking it, the other involves serving pre smoked salmon on a chilled block.
Yield: 2 as a main, 4 as a starter
Smoking Salmon On A Salt Block (Cooked Version)
This is a version of salmon on a Himalayan salt block that involves cooking it. It's one of my most favorite salmon recipes ever!
Ingredients
Salmon
2 tbsp olive oil
1 tbsp honey
1 pinch salt and pepper
1 papaya
1 mango
1 kiwi
3 lemons
Instructions
Preheat your oven and place the salt block into the oven to let it heat up. It needs to reach 400 degrees; use a thermometer if you have one.
Coat the salmon in a mixture of the olive oil and pepper.
Place olive oil and salt on the surface of the salt block.
Place the salmon fillet on the top, and cook for 8-10 minutes.
Flip the fillet over and cook on the other side for the same amount of time, keeping an eye to make sure it doesn't become overdone.
Dice up all the fruit with 1/3 lemon juice, salt and the honey into a mixing bowl.
Serve the salmon on a bed of the fruit, with an added squeeze of lemon juice.

Nutrition Information:
Yield:
2 as a main, 4 as a starter
Amount Per Serving:
Calories:

175
For the chilled version:
Ingredients
1-2lb salmon fillet
1 bunch dill
4 slices of orange and 4 of lemon
1/2 tsp each of toasted anise and fennel seeds
2 tsp black pepper
1/2 tsp dried thyme
1/4 cup of sugar
Method
Lay half the dill over the salt block, and add half the orange and lemon slices over the top of this.
Mix together the fennel, anise, pepper, thyme and sugar in a small bowl, then pat this mixture into all the parts of the salmon.
Place the salmon on top of the orange and lemon slices, then lay the other half of the lemon and orange slices over the top, followed by the other half of the dill.
If you have two salt blocks, lay the second over the salmon parcel; if not then just wrap the whole thing in cling film.
Pop it into the fridge until the fish flesh feels firm. This could take up to five days, depending on the thickness of the fish fillet.
Remove the block from the fridge, discard the lemons and oranges, and serve with a sprig or two of fresh dill.
Prep Time
Half an hour. The thing will need to be left in the fridge, which adds to the prep time, but actually preparing this dish won't take too long.
Cooking Time
Not applicable!
Serving Size
Serves between 4 and 6, depending on the size of the salmon fillet.
Calories
120
Final Words
Himalayan salt blocks are a great way to cook. They add flavour and minerals, plus they are a great talking point at dinner parties.
Now you know how to cook salmon on a Himalayan salt block, you can wow all your guests – or just create delicious meals for yourself and not have to share!