The shape and style of a champagne flute is not just about aesthetics; it also affects the taste and aroma of your wine.
That's why most champagne flutes tend to have a narrow rim and a long stem. It reduces the wine's contact with air and keeps your warm hands away from the champagne.
But it's also important to consider the aesthetics. Some styles work better special occasions like weddings while others are perfect for dinner parties at home.
To help you find the best style for your needs, we've picked the best champagne flutes from those available to buy online in the UK, and reviewed them below.
But first, here's a look at some of the factors we considered – and which you should consider as well when shopping – when picking the best champagne flutes and glasses.
What to Consider When Buying Champagne Flutes

a. Shape and Design

Champagne glasses come in several shapes and styles. Here are the most common.
Traditional champagne flutes:  The most common style. A classic champagne flute features a tall stem and a simple narrow bowl that tappers towards the rim. The narrow rim retains your wine's strong aroma and taste while the tall stem keeps it from getting tepid.
Tulips: Similar to flutes except for their wider centre and narrower rim. A tulip holds more wine and the narrower rim retains its rich taste for longer.
Coupes: Also called saucers, these traditional champagne glasses feature a wide bowl and a shorter stem. They are typically used in weddings and parties because of their classic look. Because of the wide rim, they are best for dry champagnes.
Stemless: These glasses have no stems, making them ideal for those who are afraid they will tip over their flute. The only downside is that your warm fingers will be in contact with the part holding the wine.
Trumpets: Champagne trumpets are a contemporary take on classic flutes. They feature the same narrow body and rim. But trumpets tend to have a narrower profile overall with the bowl and stem often styled into one continuous tapering shape. Trumpets are great for special occasions and make for excellent gifts as well.
b. Material
Champagne flutes are either glass or crystal.
Standard glass flutes tend to be thicker to make them more durable. Crystal, since it is stronger, can make thinner and more elegant flutes.
Crystal flutes are usually more expensive.
Most standard glass flutes are dishwasher safe since glass is non-porous. If you are buying crystal champagne flutes, check the manufacturer's specifications. Most of them can only be hand washed.
c. Durability
Traditional champagne flutes break more easily because of their top-heavy design. So if you are looking for durable champagne glasses for everyday use at home, look for those with shorter stems or go completely stemless.
The Best Champagne Flutes Reviews
1. Chef & Sommelier Open Up Effervescent Champagne Flute, 200 ml
This is a set of 6 flutes, each with a 200ml capacity.
The extra tall stems keep your champagne perfectly chilled while the tapering rim delivers a strong aroma and taste.
The angled bowl gives the flutes an elegant tulip-style look. The design is perfect for home dinner parties, weddings and other special occasions.
If you are looking for a good gift for a champagne lover, we highly recommend this set.
While the flutes are dishwasher safe, most customers opted to go the safer route of hand washing.
What we like about it:
Elegant finish – transparent glass with a tulip style design.
Long stem prevents your wine from getting overly warm.
Narrow rim retains the wine's best qualities.
CLICK TO CHECK PRICE ON AMAZON
---
2. Dartington Crystal Glitz Champagne Flutes, Set of 2
If you are looking for a gift idea for an anniversary or wedding, this pair of crystal champagne flutes is perfect.
The 210ml glasses feature a long delicate stem and a thin flute bowl decorated with real Swarowski crystals.
No wonder they cost more than most champagne flutes.
As many customers have pointed out, they look even better in person than they do in the product images.
The set comes complete with a gift box.
What we like about it:
Absolutely stunning – perfect gift idea for weddings, anniversaries and other special occasions.
Long stem and a narrow rim ensure the wine retains its rich aroma and taste.
CLICK TO CHECK PRICE ON AMAZON
---
3. Stölzle Lausitz Champagne Glasses Quatrophil 292 ml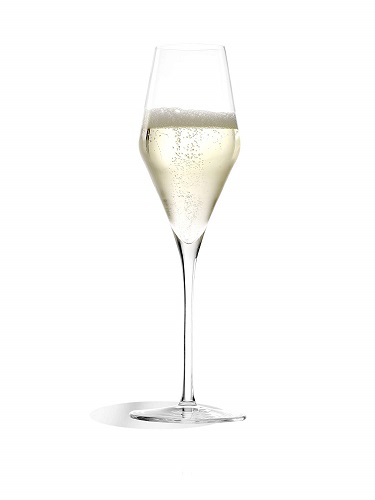 These glasses have an elegant tulip style that looks like one piece from rim to stem. The curved bowl and the extra-long stem give it a beautiful contemporary look that is perfect for special occasions.
The glasses, of which there are 6 in the set, are slightly wider and taller than standard champagne flutes. That's why they have a bigger 292ml capacity.
If you are looking for flutes that can hold more wine, these are the best.
The flutes are made from lead-free crystal, meaning they are more durable than standard glass flutes.
Unlike some crystal flutes, these ones are dishwasher safe though most customers opt to hand wash them just to be safe.
What we like about it:
Perfect gift set for champagne lovers.
Extra-large capacity that's great for wine guzzlers.
Hardy lead-free crystal material.
Dish washer safe.
CLICK TO CHECK PRICE ON AMAZON
---
4. Doctor Hetzner Crystal Champagne Flute Glasses
This is another good option if you are looking for crystal champagne flutes. These ones have the classic flute design with a tall stem and tapering bowl.
The overall look is elegant enough for special occasions like weddings while the durable crystal material makes them ideal for daily use at home.
What we like about it:
Lightweight and durable crystal material.
Made from lead-free crystal.
Beautiful and elegant design.
CLICK TO CHECK PRICE ON AMAZON
---
5. Luminarc Hermitage Champagne Flute, Pack of 6, 160ml
These look more expensive than they really are. Despite the affordable price tag, they look beautiful and elegant.
Unlike most champagne flutes, these ones have a shorter and sturdier stem, making them perfect for rowdy family parties over the holidays.
They are smaller than most champagne flutes but on the upside, you bottle of champagne will serve more guests.
What we like about it:
Elegant design.
Shorter stem makes the flutes sturdier and less likely to tip over.
Affordable.
CLICK TO CHECK PRICE ON AMAZON
---
Frequently Asked Questions
1. Why are champagne flutes tall?
There are two reasons why champagne flutes are tall. For one, the stem needs to be long so that you can hold the flute without your warm hands coming close to the cold champagne.
Secondly, the upper part containing the drink works best with a narrow and tall design. This concentrates the wine's aromas and reduces contact with air. The flute also looks more elegant that way.
2. Are champagne flutes dishwasher safe?
Yes, most champagne flutes are dishwasher safe as long as you load them properly. Place them in the top rack with adequate distance between the glasses to ensure they don't hit each other. If your dishwasher has a holder specifically for wine glasses, use it.
If you bought crystal champagne flutes, check the manufacturer's care instructions. Some crystal flutes should only be hand washed.
3. What's the best way to serve champagne?
According to the official champagne website, champagne is best served cold at a temperature between 8°C and 10°C.
To chill it, you can store it in the refrigerator (at the bottom) for around 4 hours or put it in an ice bucket for 30 minutes.