A chopping board is one of those essential pieces of kitchen kit that you tend to use on a daily basis, at least. How to clean chopping board when you're using it all day, every day?
Let's look into the different types of chopping board there are, and the different types of cleaning techniques and tools you can use to keep your equipment clean!
How To Clean Chopping Board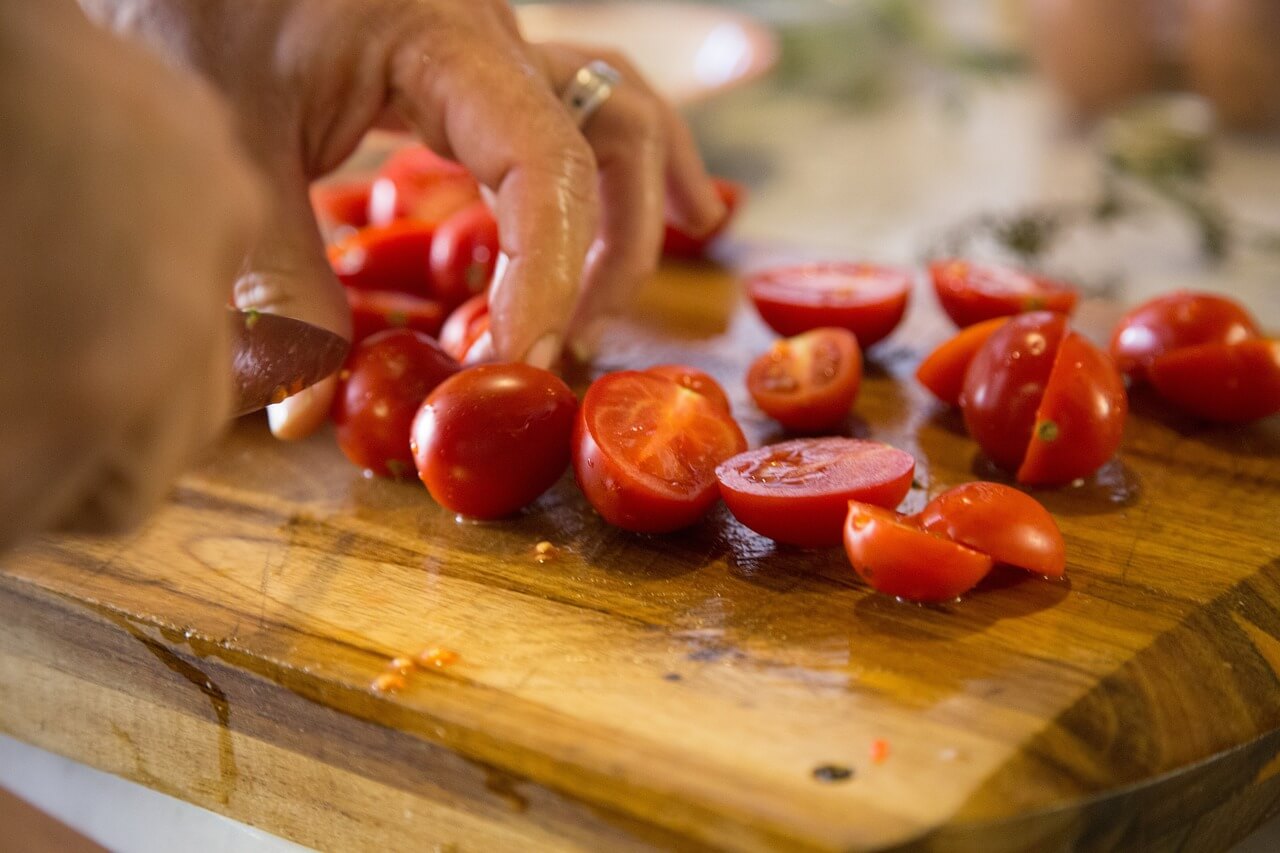 Cleaning a chopping board, as long as you keep on top of it, shouldn't take too much effort.
All you need to do is to give it a good wash after every time you use it. The key is plenty of hot water, soap and scrubbing.
You can also put your chopping board in the dishwasher, where you can be sure it will get a very effective cleaning.
Remember to either let your chopping board drain, or to dry it with paper towels, as dishcloths can carry germs which can contaminate your clean board.
It is important to clean both sides of your chopping board, even if you only used one side, as this will prevent it from warping.
There are a great many natural ways that you can clean your chopping board if you don't like the idea of using harsh chemical cleaners.
It's also worth remembering that boiling water will kill just about any germ that you care to throw at it!
How Do You Clean And Deodorise A Wooden Cutting Board?
Cleaning your chopping board is pretty easy – but what do you do about strong odours left on the board?
Chopping something strong smelling, like garlic or chillies, can leave a smell that lingers on your chopping board for weeks!
So, start by washing the board thoroughly. Use hot soapy water, and remember to rinse the board well afterwards.
Next, pour some salt on the board. Add the juice of a lemon or lime, and leave this mixture until the salt dissolves.
Scrub the board with the citrus half for a good few minutes – 5-6 should do the trick to remove any leftover smells.
Finally, rinse the board well and dry it – either let it air dry, or pat it with paper towels to remove the water.
Remember to clean both sides of the board when you do this – this means that the board is likely to warp.
If you have been wondering how to clean a bamboo cutting board, check out this article.
How Do I Clean A Plastic Cutting Board?
Cleaning a plastic chopping board takes a little more effort, as the board can show up stains more easily than a wooden one.
You may also find that the inevitable scratches and cuts on the board can attract dirt and germs, so it's important to clean it well.
Start by cleaning as you would the other dishes – in a bowl of hot, soapy water. Allow it to air dry or pat dry before continuing.
Soak the board in a solution of water and vinegar in a 50 50 ratio, and let this sit on the board for 5 minutes.
Scrub the board well with hot water and dish soap – unscented is best; you only want it clean and not too sweet smelling!
Make a paste with 1 part baking soda, 1 part salt and 1 part water. Apply this to the board, let it sit then scrub well to remove any stains on the surface.
Sprinkle salt on the board, squeeze over some lemon juice, then scrub the mixture into the board before rinsing well.
Pop it in the dishwasher. Plastic chopping boards can withstand the hot temperatures easily, so there won't be any issues with this.
Cleaning a plastic chopping board needn't be too much harder than a wooden one – the only thing you need to watch out for is stains on white plastic.
This video gives you some great tips on how to clean your plastic chopping board so it looks as good as new:
How Do You Disinfect A Cutting Board Naturally?
There are a great many ways to clean your chopping board naturally, without using chemical cleaners.
Salt is a great natural cleaner, and it can remove bad smells too! Simply spread a layer of salt on your board, sprinkle on a little water, then scrub off.
Citrus fruits like lemon and lime are not only fantastic cleaners, but they are great at making things smell better. Squeeze on the juice, then scrub the board with the skin.
Bicarb of soda is a fantastic natural cleaner and deodoriser. Spread a layer onto the board, add enough water to make a paste, then scrub off.
Vinegar and water are a great natural cleaning combination. Mix half white vinegar and half water, and use this to clean your chopping board.
Hydrogen peroxide is a really good kitchen cleaner; you don't need to use a lot, and remember to rinse it off well.
Whenever you use any of these cleaning methods, be sure to rinse off your chopping board well and dry it.
How Often Should A Cutting Board Be Cleaned?
Ideally, you need to clean your chopping board after every single use. This can be as simple as wiping it with a cloth, or you can clean it more if you have been chopping messy things.
Remember to keep separate chopping boards for meat and veg, so that you don't transfer any germs or bacteria.
If you only have one chopping board, thoroughly clean and sanitise it after every use, to avoid any cross contamination.
Keeping your kitchen utensil clean is the best way to get delicious food and avoid any health issues, bad smells or unsightly stains.
As we all know, a chopping board is essential for keeping our chopped food in one place and for protecting our work surfaces.
Learning how to clean chopping board is one of those essential life skills that everyone needs to learn, as soon as they possibly can!