What we know of as gammon is the hind leg of a pig, which has been brine cured, and may or may not be smoked. It is a delicious, tasty piece of meat, and you can make it even more delicious when you know just how to cook it right! Ever wondered how to cook a gammon joint in a slow cooker with water? Let's look into the best – and simplest – way to do this.
How To Cook A Gammon Joint In A Slow Cooker With Water
You can use smoked or un-smoked gammon for this recipe, depending on your personal taste. However, if you are using smoked gammon and you want your meal to be a little less salty, it is recommended that you soak your smoked gammon joint in a bowl of cold water for around 12 hours before you start to cook it.
Slow cooked gammon is a versatile meal that can be adapted to other dishes, either as leftovers or as a different main course feature depending on what type of side dishes you serve with it. Whether you're going for a pub style gammon and chips, or a more gourmet meal with veggies and sauces, this cut is ideal for creating deliciousness.
Gammon in a slow cooker is easy, cheap and simple. All you need is a slow cooker, a nice cut of pork and a bit of water, and you're sorted for the next few nights of dinner!
Simple Slow Cooked Gammon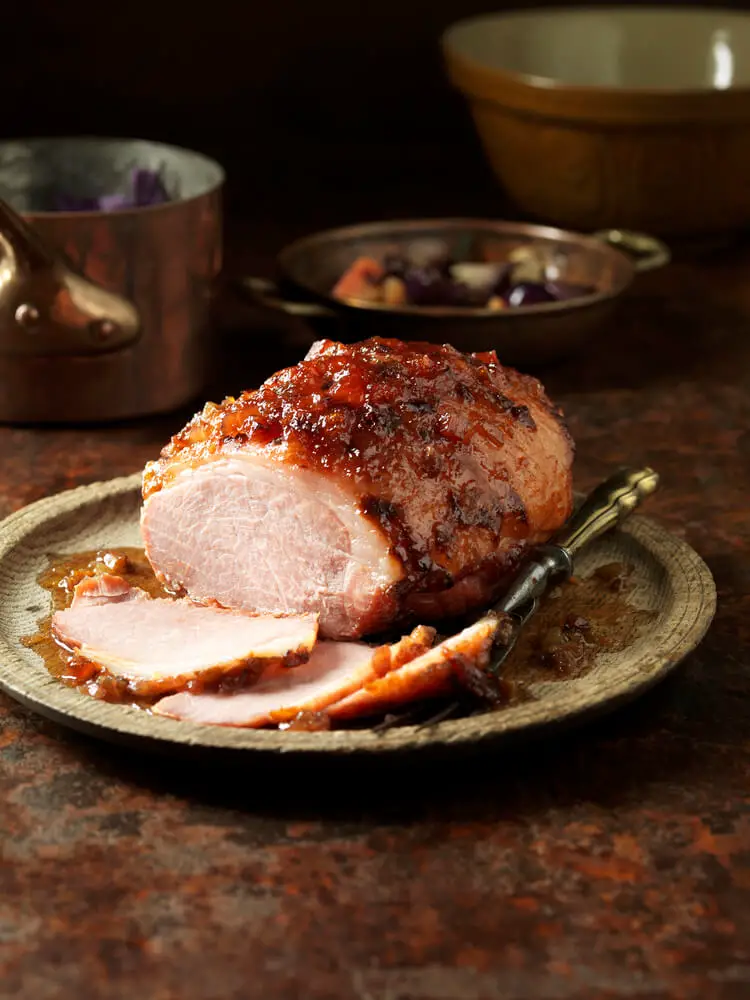 This super easy way of cooking a gammon joint will leave you with a tasty dinner, plus potentially a few other dinners after it too.
What you'll need:
1.6kg gammon, smoked or un smoked
1 large onion, peeled and cut into quarters
100ml water
Slow cooker
Place the meat, water and onion into the slow cooker, put the lid on, and cook on a low heat.
You will want to leave it for at least 6 hours, and up to 8. The longer it is cooked, the more tender it will become, until it is like pulled pork.
Slow cooked gammon can be served with a fried egg and chips, for that classic "ham egg and chips" dish. If you're wanting a healthier meal then serve it with some roasted or steamed veggies. Of, if you like, you can serve it with a nice creamy mash and some lovely greens, such as spinach or spring greens.
This is the simplest way to cook a gammon joint, and the great thing is that you can set it to start cooking while you go to work, and have it be ready when you get home!
Variations
For a bit of added flavour, once the meat has finished cooking, you can remove it from the cooker (it is a good idea to use tongs for this, or two spoons if you don't have tongs), then cut off most of the fatty rind. Then score the skin with criss cross lines and spread a mixture of 1tbsp English mustard, 1tbsp runny honey and 2tbsp brown sugar over the outside of the meat. Bake it in a hot oven for 15 minutes, until the fat is browned and crunchy.
You can also pierce the skin with cloves before cooking it in the slow cooker – just remember that they are not very tasty to chew on, so diners may wish to remove them on their plates!
To add a little more flavour to your gammon slow cooked in water, you can add any amount of chopped up vegetables around the gammon joint. Root vegetables such as carrots, parsnips, swede and turnip are the best, as these can stand up to long cooking times and not lose their texture. You probably don't want to add tender veggies like broccoli or spinach, as these will lose their form completely after about 15 minutes!
If you want to jazz up your slow cooked gammon with water, you can add a stock cube or two to the cooking water, for a bit more depth of flavour. You can also experiment with additions to this water, by adding a teaspoon of Marmite, a teaspoon of powdered Ginger, or some dried herbs. Once you have got the basis of this recipe down you can experiment to your heart's content, and try out different variations every week!
One of the really great things about using this recipe for slow cooked gammon is that you can use the leftovers in a variety of creative ways:
The cooking juices make a delicious stock to add to a soup.
Leftover gammon can be sliced and eaten cold in sandwiches.
You can make tasty curries and stir fries with leftover meat too.
It is also delicious added to a carbonara.
Cold gammon can be added to salads for a light lunch.
Final Words
Slow cooking gammon makes a truly delicious meal, and it is super easy and convenient to cook. It is also a great option for those on a budget, as it makes at least 3 meals, and the ingredients are relatively cheap. All you need is a slow cooker, the meat and some water, and you're away!
Looking for more slow cooker recipes? Here is one with chicken chasseur.