Tenderloin is cut from (you might have guessed this!) the loin of a pig, and it is a boneless cut which is fairly lean. Although tenderloin is generally cooked quickly over a high heat, you can also roast it slowly in the oven, which gives a different result and can be something of a talking point at a dinner party. Read on to find out how to cook pork tenderloin in oven with foil!
How To Cook Pork Tenderloin In Oven With Foil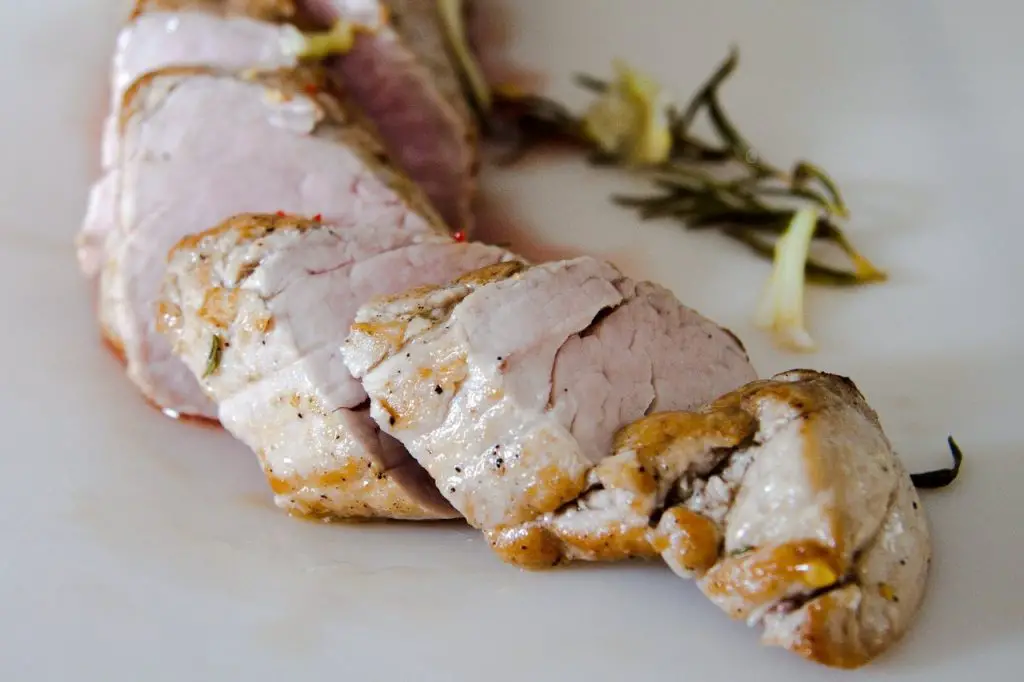 Tenderloin is a cut of meat that runs from the hip to the shoulder of the pig. It is a hard working muscle, but unlike some other big muscles it cooks up into a really, well, tender meat! You can generally cook a tenderloin cut into something delicious within about half an hour, but you can also cook it for longer and still end up with something truly delicious.
The following recipes creates a beautiful, tender and tasty meal. The key to cooking tenderloin slowly is to add plenty of cooking liquids, to prevent it from drying out. Using a marinade or butter or oil in the cooking process adds a delicious flavour, and the juices soak into the meat, making it even more tender. These are super easy to make, take very little effort, and produce perfect results every time.
1. Marinaded tenderloin
This is a very easy way of cooking tenderloin in the oven, that combines the savoury with a deep hint of herbs.
What you'll need:
1kg pork tenderloin
120ml olive oil
1tbsp each of garlic powder and onion granules
1tsp dried mixed herbs
1tsp chopped fresh Oregano
1/2tsp dried Rosemary
Ziplock bag
Tin foil
Baking tray
Once your tenderloin has thawed completely, place it into a ziplock bag with all the other ingredients. Squeeze as much air out of the bag as possible before sealing, to ensure that as much of the marinade as possible is touching all parts of the meat. Leave it to sit in the fridge for at least an hour, preferably 2 or 3, to allow the flavours to permeate. You can shake the bag a few times to keep everything mixing well.
Preheat the oven to 220C/Gas mark 6.
Line a small baking tray with tin foil, remove the tenderloin from the bag (a very important step!) and place it in the centre of the tray.
Pour over any marinade juices remaining in the bag, and bake for 15 minutes. Turn the meat over, then return to the oven for a further 15 minutes. Turn it twice more, every 15 minutes, until it has been cooking for a total of 45 minutes.
Remove it from the oven and allow it to rest for 10 minutes, to allow the juices to permeate the meat and make it more tender.
Serve with any vegetables you like; lightly steamed is best, so that strong flavours don't detract from the taste of the marinaded meat.
If you want to roast your pork tenderloin without using the marinade, you will still need to add something to the baking process to prevent this particular meat from drying out. Here's another super easy recipe to create beautiful tender pork:
2. Herby tenderloin
This is a very simple way of cooking tenderloin, that doesn't include marinading the meat beforehand, but still results in a deliciously succulent final product. Ideal for those who like garlic and Italian seasoning!
What you'll need:
1kg pork tenderloin
2tbsp olive oil
4tbsp butter, made into between 4 and 6 pats
2tbsp crushed garlic
1tsp each of Basil, Oregano, Thyme, Parsley, Sage OR 2tbsp dried Italian herb blend
Salt and pepper
Baking tray
Aluminium foil
Small bowl
Large frying pan
Preheat the oven to 180C/Gas mark 4.
Line the baking tray with aluminium foil, and set the frying pan on the hob with the oil.
Combine the herbs in a small bowl.
Once the oil in the pan is hot, cook the meat in it, turning regularly, until it is golden brown on all sides.
Transfer the meat to the baking tray and cover with the herb mix. Place the pats of butter along the meat at evenly spaced intervals, then fold the foil into a tent over the meat.
Bake for about 25 minutes.
Remove it from the oven and let it rest, with the foil tent still in place, to allow the juices to lock in to the meat.
This goes very well with your favourite mashed potatoes, and some lightly steamed carrots and peas.
Final words
Pork tenderloin is a lovely, tasty piece of meat, that ends up deliciously melt in the mouth if it is cooked well. You can make it the centrepiece of your delicious dinner party, plus it's easy and simple enough to make so that you can whip it up as a midweek treat too.