Braising steak is named this because it generally lends itself well to long, slow cooking with liquid, also known as braising. However, if you want to cook it quickly like your standard, more expensive sorts of steak, you can do this very successfully too. Read on to find out how to cook braising steak in a frying pan.
How To Cook Braising Steak In A Frying Pan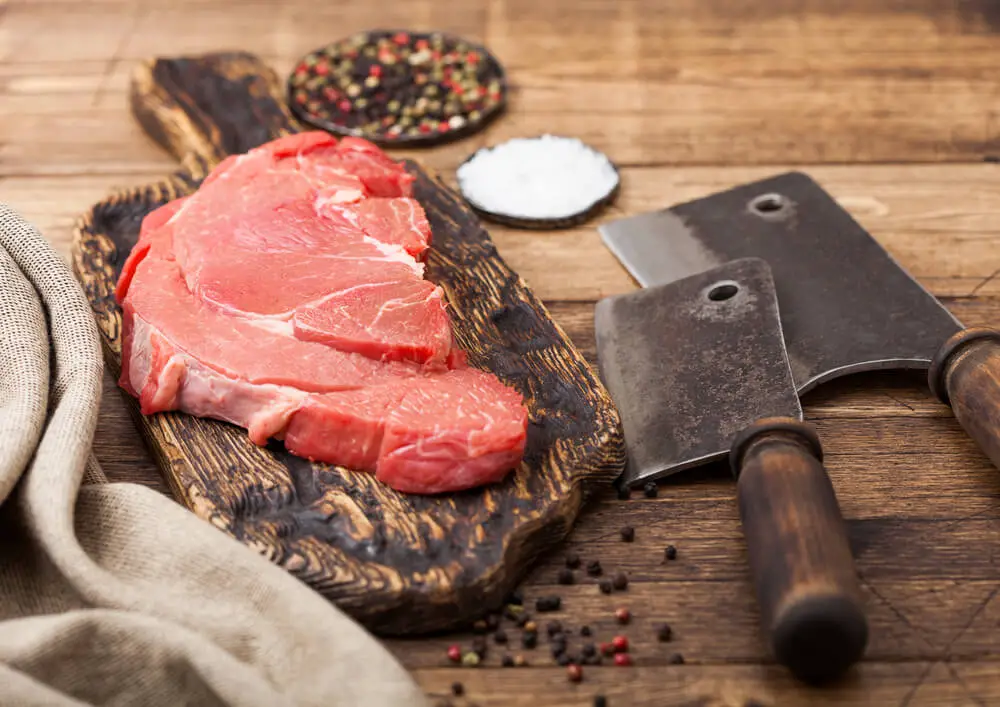 Braising steak is a tougher steak than other types, and as such it can get dry and chewy if it is fried, because the meat has long strong fibres that need to be broken down by a long cooking process.
You can cook your braising streak in a frying pan – but bear in mind that it will take longer. A pan with a lid is a good idea, because this will allow the dish to become more moist and tender, as it will trap the steam and the cooking juices better.
You will also need a good, heavy pan that can withstand a lot of cooking, sometimes at a high heat. Think cast iron – this is one time when your lightweight, Teflon coated, non stick frying pan just won't cut it!
If you try to fry braising steak as you would a normal steak, chances are the results will be tough, chewy, and pretty unappetising. But fear not!
There are many different ways of cooking braising steak that you can experiment with, and we are here to guide you on the best ways of doing this.
1. Braised Steak And Onions
A classic recipe, beloved by old and young alike, this one will be a sure fire hit no matter who you serve it to!
What you'll need:
1kg braising steak, trimmed
1tbsp plain flour
2tbsp oil
60g butter
3 large onions, sliced
570ml water
2 beef stock cubes
1tsp Marmite (or alternative)
1tbsp tomato puree
1 tbsp Worcestershire sauce
Salt and pepper to taste
Large, heavy bottomed frying pan with lid
Sharp knife
Wooden spoon for stirring
What you'll do:
Begin by dipping the steak into the flour, with added salt and pepper.
Heat the oil in the heavy pan and fry the steaks until brown on all sides. Set them aside for now.
Add butter to the pan, along with the previous cooking juices.
Add the sliced onions and cook them until they are translucent.
Stir in a further tbsp of flour, stir and cook for 2 minutes.
Stir in the water slowly, then add the stock cubes and mix until they are dissolved.
Keep cooking and stirring until you start to see the sauce thicken, then add the Marmite, tomato puree and Worcestershire.
Place the steak back into the pan, cover with the lid and cook on a low heat for between 1.5 and 2 hours.
This dish is generally eaten just as it is, without any extras, because it is tasty and filling enough. You can always add a little steamed broccoli if you want to up your veggie intake though!
2. Simple Braised Steak
Ok, so this is not a recipe that you cook completely on the hob – but it only involves your frying pan!
What you'll need:
4 x 8oz braising steaks
2tbsp oil
3 onions
3 garlic cloves (or more, if you love garlic as much as I do!)
4tbsp red wine vinegar
1/2tsp paprika
120ml red wine
1 tin chopped tomato
1tsp tomato puree
2 Bay leaves
Large, heavy bottomed frying pan
Sharp knife
Wooden spoon
What you'll do:
Preheat the oven to 150C/Gas mark 2.
Heat half of your oil in the pan, over a medium to high heat.
Brown the steaks on each side, then set them aside.
Add the vinegar to the pan and stir in the previous cooking juices, and allow the vinegar to nearly evaporate. Turn down the heat.
Slice the onions finely and add them to the pan along with the rest of the oil. Cook them gently for 15 minutes, or until they are a golden brown colour.
Stir in the garlic and paprika, then add the tomatoes and red wine. Pop in the bay leaves. Add salt and pepper to taste, then replace the steaks into the pan.
Put the whole pan into the oven, and cook for around 2 hours. Stir it halfway through, and add a splash of water if it seems to be too dry.
This makes a tender, tasty steak dish, which you can serve with chips, onion rings and grilled tomatoes. You may never go back to eating standard steak and chips!
Final Words
Braising steak, despite its reputation for being hard to cook, is actually a really tasty cut of meat. As long as it is given a good long cooking time, with a bit of fluid added, it should turn out to be succulent and delicious. And pretty much all you need is a good heavy frying pan!