Braising steak is also known as "casserole steak", because it lends itself very well to long, slow cooking to help it stay moist and tender.
For this reason, braising steak is perfect for cooking in the slow cooker! The gentle, long cooking time will make this cut melt in the mouth tender and delicious.
You may be wondering how to cook braising steak in a slow cooker, and you are not alone – we have come up with some great ideas to help you make the most of your steak, and your slow cooker.
How To Cook Braising Steak In A Slow Cooker?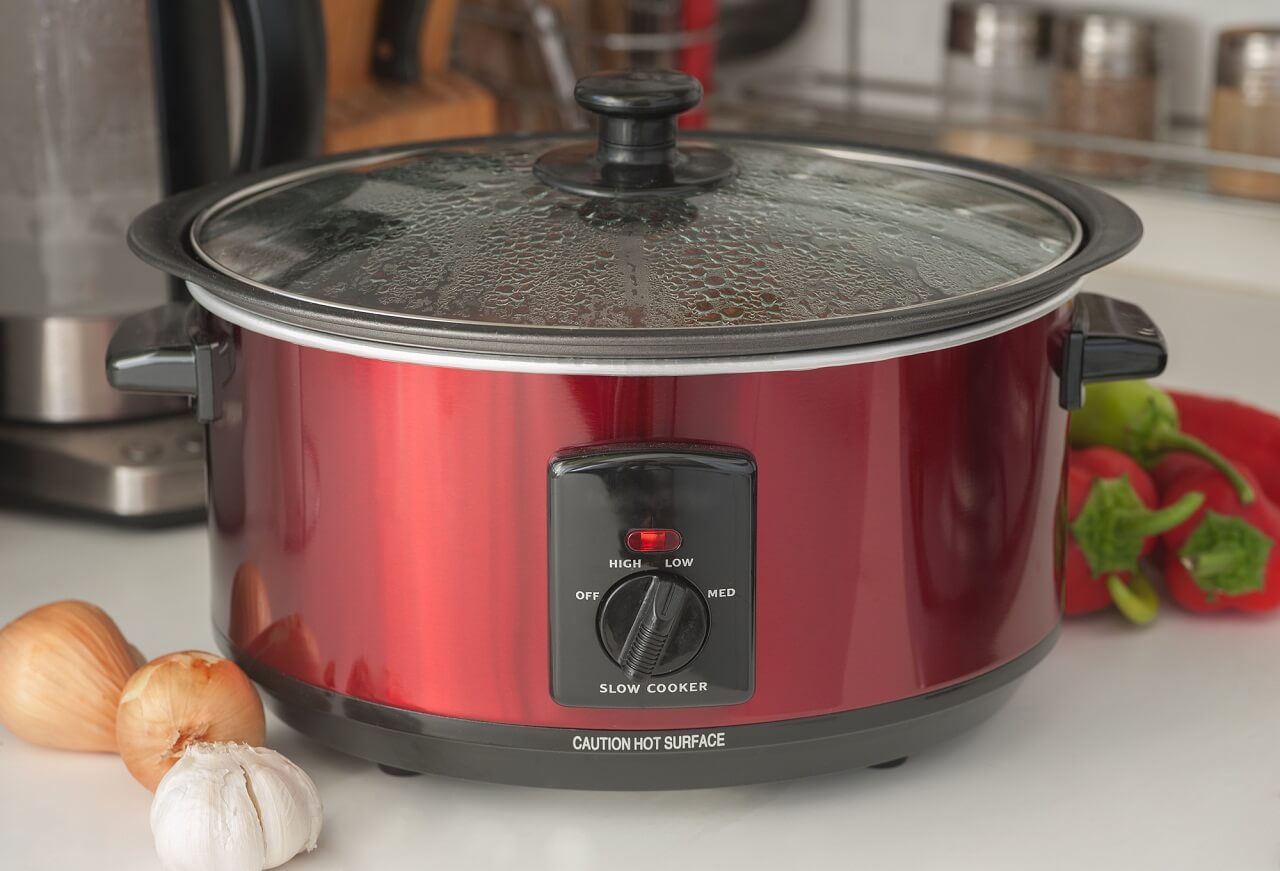 The first thing to ask is, what sort of dish are you looking to create? Something simple, like steak and onions? Or something a little more complicated like beef stew?
Once you have decided what you want, cooking braising steak in a slow cooker is actually ridiculously simple.
Cooking this cut for a long time not only releases delicious flavours, but also really helps the texture of this cut that can sometimes be tough.
All you need is the beef, plus a few added vegetables and other flavourings like stock. Cooking braising steak in a slow cooker is much easier than you might think.
Here are a couple of recipes to help you make the most of both your braising steak and your slow cooker (with a timer, ideally) – seriously, they are a match made in heaven!
Slow Cooker Braised Steak And Onions
This is a simple dish, which takes little preparation time and results in a delicious meal, with very little effort on your part.
Ingredients:
1kg topside roast, sliced into 3cm steaks
1tbsp oil
2 small brown onions, thinly sliced
3-4 garlic cloves, crushed
2tbsp tomato puree
500ml stock
1 1/2tbsp Worcestershire sauce
1 1/2tbsp cornflour
6 sprigs fresh thyme
3 bay leaves
2tbsp chopped fresh parsley
Method
Heat the oil in a large frying pan over a medium to high heat. Add the steaks to the pan, fry for 3 minutes each side until browned, then transfer to the slow cooker.
Add the butter to the pan, and cook until melted and foaming. Add the onions and reduce the heat to medium low.
Cook, stirring often for 10 minutes until the onions are tender. Add the garlic and cook for 1 minute.
Add the tomato puree to the frying pan and stir around for 1 minute. Add in the remaining ingredients except the parsley and cornflour and bring to a simmer.
Pour this liquid over the steaks in the slow cooker.
Cover the slow cooker and cook on a High setting for around 5 hours, until the beef is completely tender.
Combine the cornflour with 2tbsp of water and mix until there are no lumps. Add this mix to the slow cooker and cook for a further 20 minutes.
Serve with mash, garnished with the parsley.
If you want some good visual instructions for this dish, have a look at the following video:
Slow Cooker Beef Stew
A tasty, warming, comforting favourite for a Winter's evening, beef stew really ticks all the right boxes.
Ingredients
900g braising beef
1 onion, sliced
2 celery sticks, finely chopped
3 carrots, cut into chunks
600ml boiling water
2tbsp oil
2tbsp tomato puree
2tbsp Worcester sauce
2 beef stock cubes
2tsp cornflour
2 bay leaves
Thyme sprigs
1/2 bunch of fresh parsley
Method
Fry the onion and celery in 1tbsp of oil for around 5 minutes, until they start to soften.
Add the carrots, bay leaves and thyme, and stir for 2 minutes.
Add the tomato puree and Worcestershire sauce and stir in the water.
Stir well and add the boiling water. Tip everything into the slow cooker.
Crumble over the stock cubes, and add pepper to taste.
Fry the beef in small batches in the same pan, then add this to the slow cooker.
Cook on a low heat for 8-10 hours, or a high heat for 4 hours.
Place the cornflour in a small bowl and add a little of the liquid from the slow cooker to form a paste. Tip this back into the slow cooker.
Cook for another 30 minutes on a high setting, then stir in the parsley.
Serve with mash and any vegetables you like.
Why Is My Braising Steak Tough In Slow Cooker?
This, generally, is not a problem that you will experience if you cook your braising steak in the slow cooker.
Braising steak is quite a tough cut, which responds very well to a long, slow cooking time – which is exactly what a slow cooker does!
The long, slow cooking time when you use a slow cooker correctly will break down the fat and connective tissue, making a perfectly soft and tender meat.
However, if you are trying to rush it then your braising steak may end up tough – even when using a slow cooker.
Cook it long, low and slow. You may think that using a higher temperature will cook it better – but in the case of braising steak, this will not work.
Don't overdo the liquid. You want there to be enough liquid to cook the meat, but not to boil it – boiling meat will make it tough.
Check it but don't lift the lid. You should be able to keep an eye on the progress of your meal, but lifting the lid will allow precious steam to escape.
If you feel your slow cooked braising steak is too tough, don't feed it to the dog – you can repurpose it for curries or chilli.
Final Words
So there you have it. Braising steak can be a really tender, delicious cut of meat, and when cooked in the slow cooker it really is a tasty meal.
You can cook it however you like, as long as you give it a good long cooking time – and luckily a slow cooker is just perfect for this!