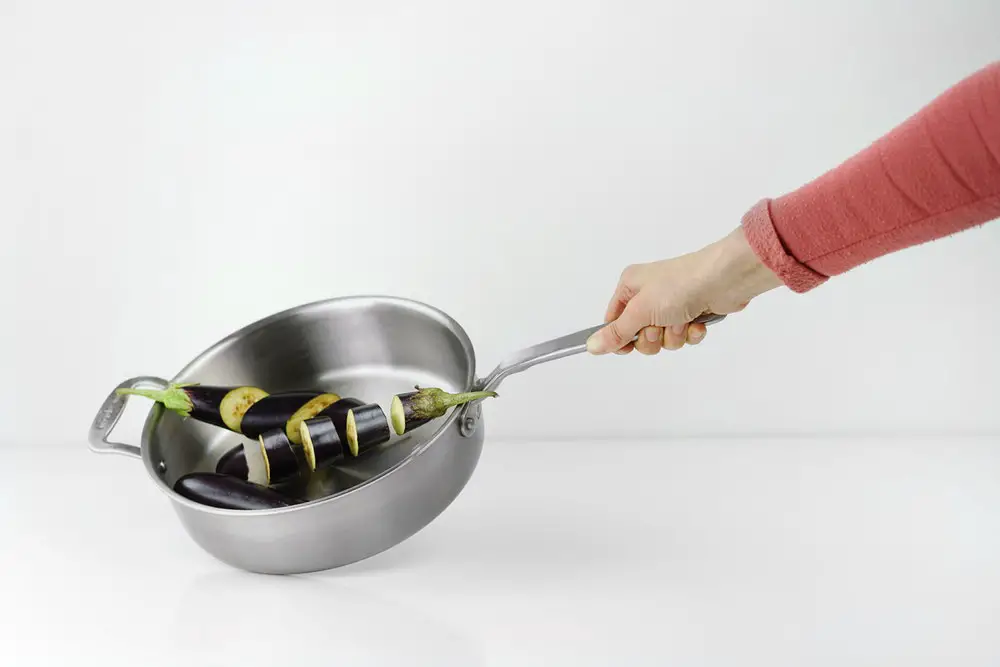 If you are moving from a traditional gas hob to an induction, you may need to get new cookware. Induction hobs only work with induction-ready pans and woks made from stainless steel or cast iron.
Aluminium, copper, Pyrex and glass cookware are incompatible with induction hobs.
But there are exceptions. Some pans containing stainless steel may fail to work with an induction hob usually because of the presence of other materials such as aluminium or nickel.
Conversely, some pans mostly consisting of aluminium and other non-induction materials can work with an induction hob if they have a special induction-ready bottom.
So pay attention when you are shopping for new pans for your induction hob. Focus especially on the materials.
Here's what else to look for when looking for induction-ready cookware.
What to Consider When Choosing Pans for Induction Hob
a. Material
Not all induction-ready pans are all-stainless steel. Some are made from aluminium on the sides but have a stainless base.
Pans with aluminium generally cook better because they spread heat more evenly. Aluminium has better thermal conductivity compared to stainless steel.
They are also lighter and cost less than pans made only from stainless steel.
The main advantage of all-steel pans for an induction hob is durability. It's common to find stainless steel pans with a 10-year warranty.
b. Number and Style of Pans in the Set
Check the size, number and style of pans in the cookware set.
A typical set will have some of the following pieces:
2-3 saucepans of varying sizes.
A large saucepot.
1-2 frying pans of varying sizes.
Casserole pan.
A wok.
The ideal make up of a pan set depends on your needs and preferences.
If you have a large family or cook many different types of meals – soups, casseroles, sautéed meals, stews and so on – get a large set with a bigger variety of pans.
If you are few in the house, you can get away with a smaller set.
Of course, budget is a factor as well. A bigger set with more varied types of pans is going to cost you more.
c. Non-stick Interior
A non-stick interior makes cooking easier and reduces the risk of burning food. It also makes cleaning easier.
Make sure the non-stick surface is durable and resistant to scratches.
d. Oven Safe
Check whether you can transfer food from the induction hob straight into the oven without transferring it to another pan.
Most pans for induction hobs are also oven safe, typically to an oven temperature of 250C.
e. Dishwasher Safe
Also check if the pan is dishwasher safe. Most are but it's important to make sure. The pan itself may be dishwasher safe but certain components like the handle may not be.
After you buy the set, check the manual for more specific cleaning instructions especially if the pan is non-stick.
f. Extras
Stay-cool handle: This is a nice safety feature to have. A handle that stays cool makes it easy and safe to lift the pan without having to use a towel or don a pair of gloves.
Removable handle: A removable handle makes storage easier. You can stack several pans so they take up less space.
Glass lid: Most pans come with a glass lid that allows you to monitor cooking without lifting the lid.
Strainer lid: This is a bonus included in some pan sets. It's handy for straining foods like pasta.
Reviews of the Best Pans for Induction Hob
1. Tefal Ingenio Pots and Pans Set Review
This is our top choice. It's a high quality set with assured durability and a 10-year guarantee to back it up.
The set consists of:
Three saucepans – 16cm, 18cm and 20cm
Two frying pans – 22cm and 26cm
Three airtight leads for the saucepans. Use these lids when storing leftovers in the fridge.
Three glass lids for the saucepans for use when cooking.
 Two handles, removable.
The Ingenio set is the only one among our picks to have removable handles. When you are cooking, you can quickly attach one of the handles to the pot you are cooking in.
If you need to use another pan, it takes just a couple of seconds to remove the handle and attach it to another pan.
The handle-less design of the pans is really handy for storage. You can stack the pans and store them in the cupboard or on your countertop.
The pans are made from stainless steel. They work well with induction hobs. You can also use the pans on a gas, electric or ceramic hob.
One feature we love is the Tefal thermospot. It's available in the frying pans. It's an indicator that turns red when the pan reaches the ideal cooking temperature (180-200 C).
This allows precise cooking of foods like meat.
The pans are oven-proof to a temp of 260C. You can also use the saucepans to store leftovers in the fridge. Just replace the glass lids with the airtight lids.
As for maintenance, the Ingenio pans are dishwasher safe apart from the handle.
What we like about the Ingenio Pan Set:
High quality and durable stainless steel construction.
The highly polished exterior looks great. You can use the pans for serving on the dinner table.
Removable handles allow easy storage.
Oven and dishwasher safe.
CLICK TO CHECK PRICE ON AMAZON
---
2. Circulon Premier Professional Hard Anodised Cookware Set Review
This premium set is relatively pricy but it is worth it. It's very durable and the cooking performance is great.
Here's what you get with this 5-piece set from Circulon.
Two sauce pans – 16cm and 18cm
20cm sauce pot (with glass lid)
20cm fry pan
14cm milk pan
All the pans are made from anodised aluminium with a steel base. The combination of the two materials gives you the best of both worlds.
Aluminium is lightweight and spreads heat evenly for better cooking results. Anodised aluminium is resistant to corrosion and is non-stick.
The steel base makes the pans compatible with induction hobs. They also give the pans a nice heavy feel. They can withstand years of daily use without showing any signs of wear.
Each pan comes with a solid stainless steel handle riveted to the body of the pan. The handle feels very sturdy and is unlikely to come lose for years.
The handles are coated in soft rubber to keep them cool.
The pans have a non-stick interior that makes for better cooking and easy cleaning.
The manufacturer says the non-stick coating is so good and durable that you can use metal utensils without worrying that you'll scratch it.
The pans are oven safe up to 180C and are dishwasher safe as well.
What we like about the Circulon Pan Set:
Premium quality aluminium and steel construction.
Durable and scratch-resistant non-stick interior.
Oven and dishwasher safe.
Excellent cooking performance thanks to the aluminium body.
CLICK TO CHECK PRICE ON AMAZON
---
3. ProCook Gourmet Non-Stick Strain & Pour Induction Cookware Set Review
This is another good choice if you are looking for induction hob pans made partly from aluminium. The ProCook set is lightweight, cooks your food evenly and heats up fast especially on an induction hob.
Here's what included in the 6-piece set.
Three saucepans – 14cm, 16cm and 18cm
24cm frying pan
24cm stock pot
24cm casserole pan
Each pan has a protective enamel coating on the exterior. This prevents scratches and scuffs, ensuring the pans look good even after years of use.
Inside, the pans have a double-layer non-stick coating that prevents food from burning and makes cleaning easier.
The non-stick coating is also handy when you want to cook something without oil.
The riveted handles feel solid. They are wrapped in silicone to keep them cool when cooking. They stay cool even in the oven, talking of which, the pans are oven-safe up to 260C.
The pans come with tempered glass lids that allow you to monitor the food cooking without lifting the lid. A steel rim around each lid adds strength and reduces the risk of the lid breaking or chipping especially at the edges.
If you are preparing foods that need straining, these pans are great for that. The pans have a pouring lip on both sides so you can strain with your left or right hand.
The lids have two sets of holes – large and small – so you can choose which ones to strain from depending on what you are cooking.
As for cleaning, the pans are dishwasher safe.
What we like about the ProCook Pan Set:
10-year guarantee provides an assurance of durability.
Dishwasher and oven safe.
Strain-ready design.
Stay cool handles.
CLICK TO CHECK PRICE ON AMAZON
---
4. Karcher Jette 14-piece Cookware Set Review
If you are looking for a more versatile set, we recommend this 14-piece Karcher Jette cookware set. It has a more sizes and styles of pans compared to the other set.
It's a good choice if you are looking for a cookware set that includes a steamer and an extra-large (24cm) stewing pot.
Here's what you get.
Three stewing pots – 16cm, 20cm and 24cm
20cm casserole pan
16cm saucepan
14cm milk pan
28cm serving pan
24cm frying pan
20cm steamer
The set also includes five glass lids with a steam vent.
The pans are made from high quality steel. They are compatible with induction hobs and most other types of hobs.
They come with a several thoughtful features that you'll appreciate when cooking. For example, the pans have a pouring lip so that liquids don't drip down the side of the pan.
Also, all the pans, except the frying pan, have gradations on the inside. You can precisely measure the amount of liquid you'll need.
You'll also love the design of the milk pan. It's more like a pot really, with high sides to make sure the milk doesn't spill over. Like the other pans, it also has a measuring scale on the inside.
All the pots and pans are safe for the oven to 240C. But don't put the lids in with them. The lids are not oven-safe.
All pieces are also dishwasher safe.
What we like about the Karcher Jette Set:
Versatile.
High quality and durable.
Dishwasher and oven safe.
CLICK TO CHECK PRICE ON AMAZON
---
5. CUSIBOX Cookware 10-Piece Set Review
This is a good choice if you are on a budget. It consists of 10 pieces that are made mostly from aluminium.
This not only makes them lighter than all-steel pans, but also better at distributing heat evenly.
The set includes two frying pans, a stockpot with a glass lid, a saucepot with a glass lid and two saucepans with lids.
That should meet the cooking needs of most families. You can prepare just any recipe from pan-fried chicken breast to a slow simmer stew.
All the pans have a ceramic non-stick coating, which is generally safer than Teflon coatings especially at high temperatures. Ceramic coating is PTFE and PFOA free.
One thing that stands out about this set is the colour. Instead of the usual black of high-shine silvery finish, this set comes in a beautiful copper finish.
It's a great choice if you want to add some pop to your kitchen.
The handles are securely riveted to the pans and are easy to grip. But we wish they were stay-cool handles.
The stainless steel is not covered in anything so they can get dangerously hot.
If you use the pans in the oven (they are oven-safe to 240C), use a pair of oven mitts to lift the pot.
What we like about the CUSIBOX pan set:
Affordable.
Looks great.
Oven safe.
Safe ceramic non-stick coating.