Ahh, asparagus – the taste of summer! It is a delicate vegetable; tricky to grow, and undoubtedly delicious. It is a very versatile vegetable – you can add it to any number of dishes – but one of the nicest ways to eat it is by itself, or wrapped in something equally delicate and delicious. Enter parma ham!
How To Cook Asparagus Wrapped In Parma Ham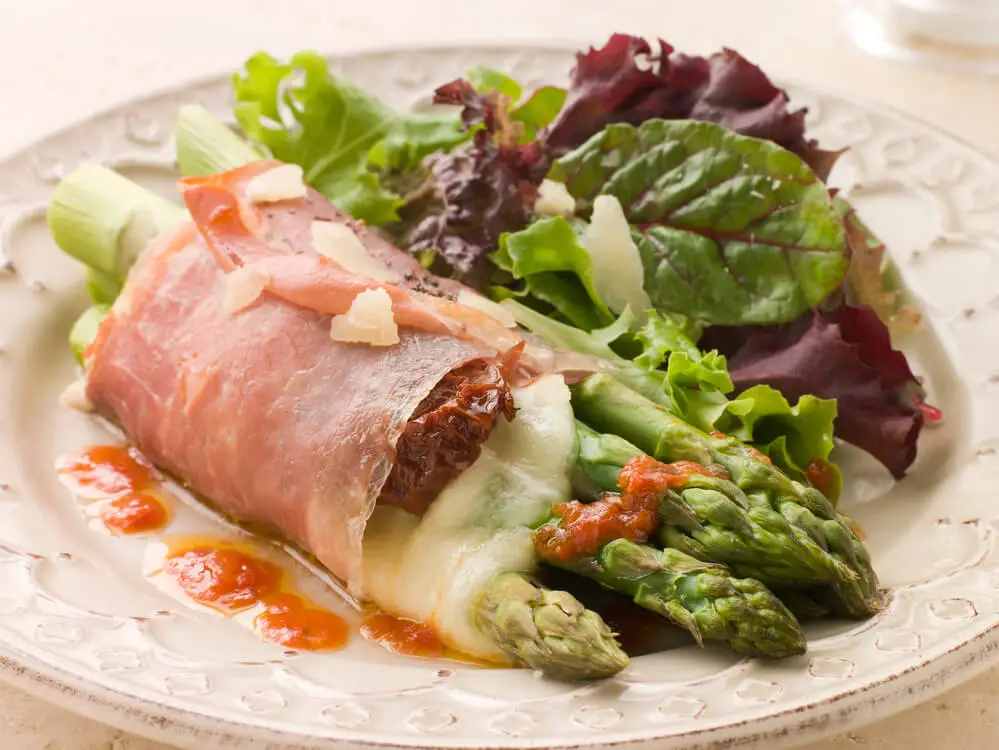 Asparagus and parma ham together make a delicious dish – salty, with a depth of flavour given by the two ingredients, and you can be sure it will wow anyone who comes to your dinner table.
This may seem like a bit of a fiddly recipe, given that you have to wrap each individual asparagus stem in wafer thin slices of ham -but trust us, it's really worth it. It works amazingly as a tantalising starter, or you can up the portions and use it as a great side dish to a main course. Or, if you just love it and want to eat it all the time, you can serve it yourself as a main dish and munch on the lot!
You can jazz up this recipe by adding sauces, or serving it with different dishes – but the main idea remains the same. It's very simple to make, easy and stress free to cook (once you've done all that wrapping!) and the results are perfect every time. You just have to make sure that you don't overdo the cooking and turn the asparagus to mush, but as long as you don't forget about them in the oven this dish should turn out amazingly.
1. Simple Asparagus And Parma Ham
What you'll need:
24 spears of asparagus
12 slices of Parma ham
Olive oil
Salt and pepper
Baking tray
Small pan
Collander
Sharp knife
Chopping board
What you'll do:
Preheat the oven to 200C/Gas mark 6, and brush a baking tray with olive oil. Fill a small pan with water and set it to boil.
Trim the hard ends off the asparagus, then place them into boiling water. Cook for 3-4 minutes, then drain through the collander and allow the spears to cool.
Slice each Parma ham in half, then wrap half a slice around each asparagus spear.
Arrange the wrapped spears in a single layer on the baking tray and season well with salt and pepper.
Bake in the oven for 10 minutes then check them; slightly thicker stems may need slightly more cooking.
You can serve this delicious dish as a tasty starter, or as a side dish with a fine cut of meat.
2. Asparagus, Parma Ham And Mozarella Parcels
You can also add slices of Mozzarella cheese to the top of the parcels before you bake them, for an added dimension of taste and texture.
What you'll need:
15 asparagus spears
125g Mozzarella
12 slices Parma ham
Olive oil
1tbsp olive oil
1tbsp red wine vinegar
Small bunch of shredded basil
Sharp knife
Small saucepan
Frying pan
What you'll do:
Blanch the asparagus in boiling water for 2 minutes, then remove from the pan and plunge into iced water.
Slice the mozzarella into quarters, then slice each quarter into two. Sit a piece of mozzarella on top of two spears of asparagus, then top with two more spears. Wrap the Parma ham around the asparagus and cheese – you will need two or three slicecs to ensure it all stays together.
Heat a splash of olive oil in a pan, then carefully fry each parcel until the ham has become crispy and the mozzarella is starting to ooze out.
Whisk together the vinegar with 3tbsp olive oil and the vinegar, then add the basil. You can either dip the asparagus parcels into the dressing, or drizzle it over just before you serve it.
This light dish is ideal for a tasty lunch, served with some salad leaves or a lightly poached egg.
You can make a delicious dipping sauce for your asparagus spears, by simply mixing up 2tbsp mayonnaise with 2tsp wholegrain mustard. Mix the two ingredients together in a small bowl, then serve alongside the spears for people to dip.
Final Words
Asparagus wrapped in Parma ham may seem like a fiddly dish, and one that you can't be bothered with – but you really should give it a go! It is delicate and delicious, and really not too fiddly at all. You don't need any fancy equipment or anything!