If you are a lifelong vegetarian, or if you have just converted to non meat based protein, or if you just want to substitute a few of your mid week meat dishes for vegetarian alternatives, this post is for you. So often Quorn pieces are just thrown in the microwave with a jar of sauce, which seems a shame when there are so many other dishes you can expand your vegetarian range with! How to cook Quorn chicken pieces without sauce? Let's find out.
How To Cook Quorn Chicken Pieces Without Sauce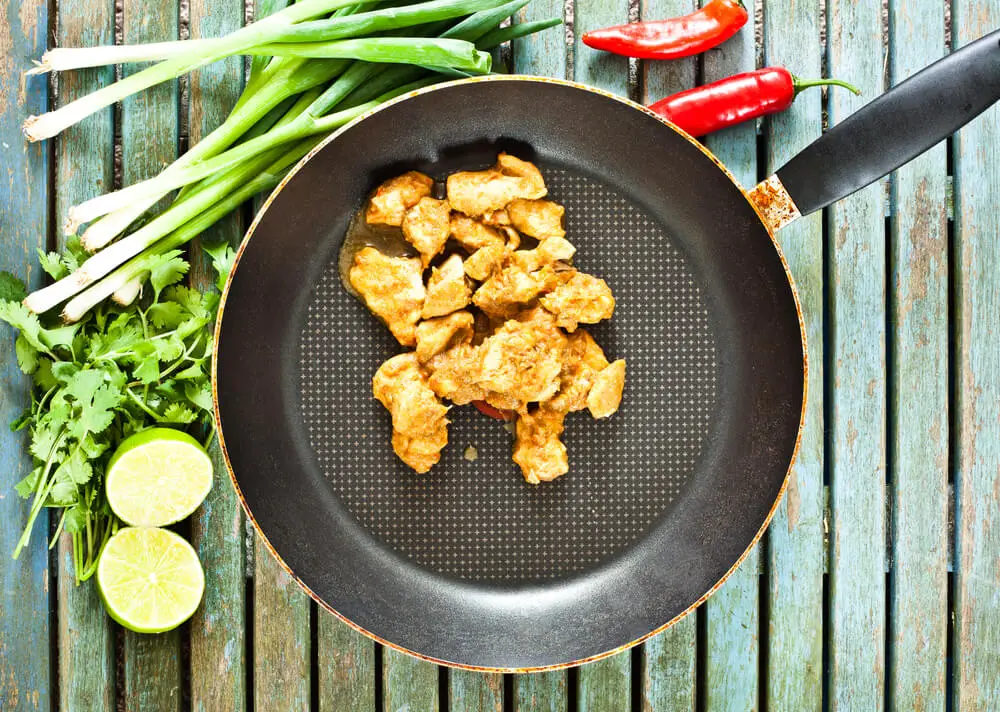 Quorn chicken pieces are a surprisingly realistic tasting imitation of chicken, which means it is great for those who don't want to eat meat but still love the taste and texture. You can use these pieces as a substitute for chicken in just about any recipe you care to name!
Cooking with Quorn pieces can be a little daunting, if you are used to cooking with meat – it doesn't behave in the same way while it's cooking, and the pieces can end up being a little dry if they are overcooked – this is why it is generally recommended to throw them straight into a sauce and enjoy them this way. However, there is a world of flavour and experience with these little balls of goodness, so do yourself a favour and look at more interesting ways of cooking them!
Quorn pieces lend themselves very well to a stir fry. This means they will cook well, and will absorb the flavours of the cooking too. And, because you are not adding them to a sauce that might make them go soft, you will get to enjoy the delicious texture of Quorn pieces.
You can also easily bake Quorn pieces, with just a little splash of oil, or a bit more of an interesting marinade. These little guys actually respond very well to being baked; you get to enjoy the unique taste of them, as well as adding a more interesting texture, than if they were drowned in sauce.
Did you know you can also roast Quorn, as if it were a cut of meat? Well, now you know! It works very well as a good vegetarian addition to Sunday lunches. You can either eat these pieces by themselves and pretend they are roasted meat, or mix them in to the gravy or fry them at the last minute with an onion or two.
Quorn Stir Fry
This is a great way to cook Quorn pieces. They mimic the texture of well cooked chicken, plus they really soak up the other flavours that you add into the stir fry.
What you'll need:
1 packet of Quorn pieces
1 onion
4 cloves of garlic (feel free to add more!)
1 piece of ginger (about an inch)
Tenderstem broccoli
4 baby carrots
Baby sweetcorn
1 pack mange tout
1 red pepper
1 yellow pepper
2tbsp olive oil
2tbsp oyster sauce
2tbsp rice wine vinegar
2tsp sugar
2tbsp soy sauce
Water
Sharp knife
What you'll do:
Finely slice the onion, and chop the garlic. Peel and finely chop the ginger. Place these ingredients into a wok, in which you have allowed the oil to heat.
Stirring constantly, add the soy sauce. Throw in the Quorn pieces and stir until everything is coated, then turn down the heat slightly.
Add the oyster sauce, rice wine vinegar and sugar, and stir well to mix.
Slice the baby sweetcorn in half and add to the pan. Put in the mange tout, then finely slice the peppers and add them to the mix.
Stir the whole lot thoroughly to combine all the flavours, adding a little water if the mix looks too dry or starts to stick. You can also add a sprinkling more sugar, if the sauce is too vinegary.
Serve with noodles cooked according to the packet instructions, with sliced spring onions and sesame seeds sprinkled over the top.
You can use a marinade to add some delicious flavour to your Quorn pieces; this will also add some essential moisture to the pieces too. All you need is a ziplock bag, equal amounts of olive oil and balsamic vinegar, a tablespoon of honey and a teaspoon of Chinese five spice powder. Combine all the ingredients in a small bowl and whisk together to combine them. Place the Quorn pieces in the bag with the marinade, squeezing out as much air from the bag as possible, then leave it in the fridge for a good few hours.
You can then either fry these pieces and add them to a dish of noodles or rice, or bake them in the oven to be tossed through some chow mein. Lightly fried, this recipe also makes a great addition to a dinner of fajitas or wraps – and the beauty is that you can add any amount of vegetables, so that you can enjoy a yummy, low calorie and healthy dinner.
The marinade method means that you will have delicious tasting, moist Quorn pieces – but you haven't had to resort to using a jar of sauce and no imagination!
Final Words
Quorn pieces are a great substitute for chicken, whether you are planning on going full vegetarian or just want to slightly reduce your meat intake. They are very versatile (you can even use them to do sausages), and you have so many more options than just adding them to a jar of shop bought sauce, as you can see!