Topside refers to the long, lean muscle that makes up part of a cow's hind quarters. These muscles are hard working, and as such they can be quite lean and fibrous. Topside is not a very fatty cut, which means it can take some cooking to make it melt in the mouth tender! It is very suited to long, slow cooking, to release its unique flavour and texture. We are here to show you just how to do that, so you can wow all your dinner guests. Read on to learn more about how to cook topside beef so it's tender.
There are many different recipes that you can use to make truly tender topside. You can stew it, add it to casseroles or curry, or you can roast it as a joint by itself. We'll have a look at a couple of these methods below so that you can have a few recipes up your sleeve. Topside is a great cut of meat, that is very versatile and lends itself to a lot of dishes. Get experimental and make the most out of this delicious cut!
Pot Roast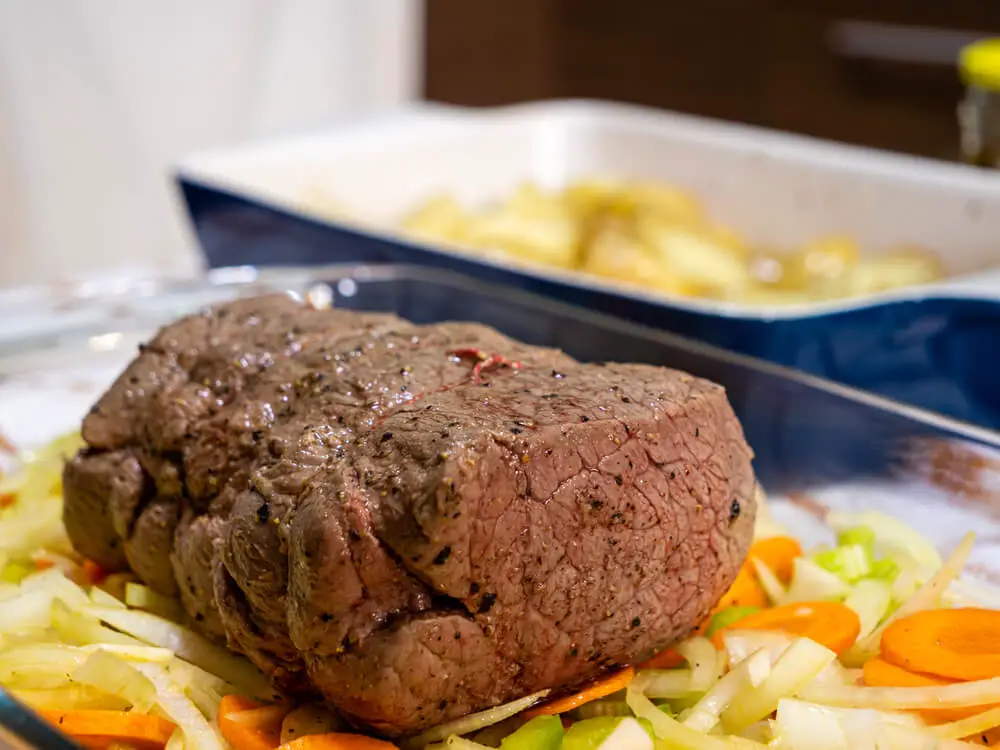 A great example of how to create a delicious centrepiece for your Sunday roast.
What you'll need:
1kg topside
2tbsp oil (olive is preferable, but you can use any oil for this)
8 small carrots
1 celery stick
200ml white wine
600ml beef stock (beef is the best, but any stock will make a good substitute if you don't have beef)
2 Bay leaves
Heavy casserole dish
Oven tray
Spoons
Scissors
Step by step instructions:
Begin by heating the oven to Gas Mark 3/160C, while you do the following steps: Rub the meat with 1tsp of your oil, and season it well with salt and pepper.
Heat your casserole dish over a high heat, and place the meat into it to brown for around 10 minutes (you will need to turn it frequently to ensure all sides are covered).
Add 2tsp of oil to a frying pan, and add sliced carrot and celery to fry for around 10 minutes until they are golden.
Remove the beef from the pan and set it on a plate. Pour the wine into the casserole and boil it for 2 minutes. Add the stock to this, then place the beef back into the liquid. Add the carrots and celery, then pop the bay leaves into the pan. Cover the pan with its lid (or foil if the lid has gone missing!) then place the pan into the pre heated oven.
Cook it for two hours, turning the beef over after one hour. After this time it should be completely tender and able to be pulled apart with the fingers.
Snip off the strings holding it together, then serve. You can add the gravy at this point, or omit if you don't fancy it (but let's face it, who doesn't love onion gravy?)
You can serve the carrots that you cooked with the beef, along with any other vegetables you fancy, for a truly delicious Sunday lunch.
Curry
It's always good to have other ideas up your sleeve, and this take on using topside is slightly different from the norm.
What you'll need:
Vegetable oil
1kg topside
500ml coconut milk
20 shallots
6 cloves of garlic (if you love garlic then feel free to add more!)
15g both fresh turmeric and galangal
40g fresh ginger
1tbsp ground turmeric
30g tamarind paste (you can substitute sauce or chutney for this, but be aware that the result will be sweeter)
2 lemongrass stalks
4 kaffir lime leaves (you can substitute 4 tablespoons of lime juice if you can't find the leaves, but be aware that this will make the curry slightly wetter)
1 small red chilli
Food processor
Large, heavy bottomed pan
Sharp knife
Wooden spoon
Step by step instructions:
Slice the shallots thinly, remove the skins from the garlic and the seeds from the chilli. Peel and chop the fresh ginger, turmeric and galangal. Add these things to a food processor with the tamarind and ground turmeric, and process it into a thick paste.
Roughly chop the lemongrass and tear the lime leaves, and add to a pan with 4 tbsp of oil with the paste. Season with salt and pepper.
Cut the beef into 4cm pieces, then add to the pan and stir well for 10 minutes, to ensure the meat is coated with the paste.
Pour in the coconut milk, put a lid on the pan and simmer for at least an hour, stirring occasionally (you might want to leave it for up to an hour and a half, depending on how large your beef pieces are). You are looking for a thickened sauce and a tender, soft meat.
Remove the seeds from the chilli and slice it thinly, then use it to garnish the curry.
Serve with rice, and naan breads if you like.
Roasted Joint
A great idea for a weekend roast, or for a special treat. This roast will guarantee to fill tummies and spread smiles.
What you'll need:
1.5kg topside
1tbsp plain flour
1tbsp olive oil
2stp mustard powder
1tsp dried Thyme
Seasoning
Small mixing bowl
Meat thermometer
Spoons
Step by step instructions:
Allow the beef to stand at room temperature for one hour. Preheat the oven to gas mark 9/240C. While it is heating, combine the flour, olive oil, mustard, Thyme and salt and pepper into a paste in the small mixing bowl.
Spread this mixture all over the top and sides of the beef, the place in the oven for 20 minutes.
Reduce the oven's heat to gas mark 4/180C. Roast for a further hour.
Check the temperature of the meat with a meat thermometer – you should get a temperature of 48 degrees C as a minimum; higher if you like your meat cooked more.
Remove the meat from the oven when it is cooked how you want it, and let it sit on a board to "rest" for a while (around 20-30 minutes covered in foil should allow the juices to ooze nicely into the meat).
Serve with roasted vegetables, roast potatoes and Yorkshire puddings.
Final Words
Topside is a lovely cut of meat, and one that lends itself very well to long, slow cooking. This cut is especially good when used for curries, or for pot roasting, or cooking that allows it to stew for a while in its own juices and lets it release its full flavours.
If you would like to check more beef recipes, here is another one.